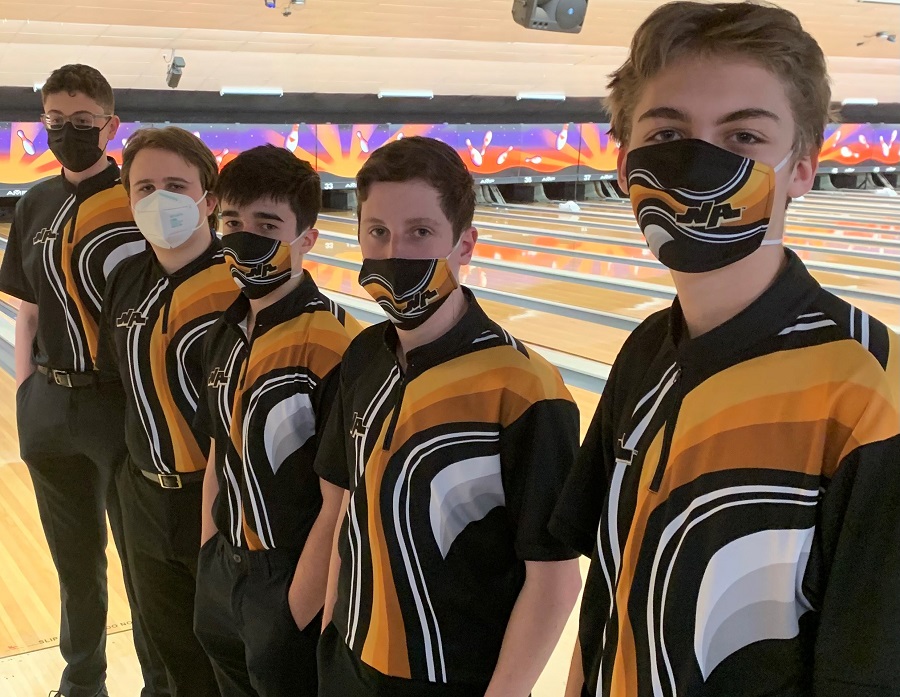 Six Tigers Advance To Western Regionals
Six varsity bowlers began their individual post-season journey this week at the WPIBL Singles Championships at AMF Mt. Lebanon Lanes.  Bowling on Wednesday for the Boys were:  Seniors Andrew Cook, Joey Lydon, and Dylan Scheidler as well as Juniors Jeb Jorden and Gavin Rush.  Representing NA at the Girls competition on Thursday was senior Alexis Robinson.
Like last week's team event, the singles event was bowled on the Kegel Challenge Series oil pattern called Broadway.  Similarly, there were not many high scores as navigating the invisible obstacle was quite a task for all the bowlers.  One hundred and six boys and seventy-five girls tried to run the gauntlet this week with the top 40 boys and the top 40 girls qualifying to move on to the regional event.  On Thursday, Robinson started off strong in her post-season debut.  For game 1, she knocked over 195 pins and had her name near the top of the leaderboard at #5.  Her 140 for game 2 dropped her position to #12.  In the final game, Alexis put together a 137 finishing the day with a 472 series and in 19th place overall, qualifying her for the next round of competition.
A day earlier at the Boys event, the lane conditions were treacherous, and the approaches were extremely slippery.  Unphased by the conditions and quick to the top of the standings was senior Joey Lydon with a 201 (#4 overall).  Other NA scores were Cook (162), Scheidler (156), Rush (133), and Jorden (127).
In Game #2, Gavin Rush settled into a rhythm and threw the 5th highest Game 2 with a 216.  Scheidler and Cook also battened down the hatches and increased their performance with a 191 and 187, respectively.  Lydon threw a 177.  Jorden struggled to keep his ball from sliding off the lane with a 130.  After 2, Lydon was holding steady at the #6 overall position with Rush, Cook, and Scheidler at 26, 27, and 29.
The NA contingent held strong in Game #3 with Rush leading the way once more with a 217.  Close on his heels was Scheidler (202) and Cook (187). Jorden eventually found a ball and mark combination and finished the day with a 148.  Lydon had trouble closing his frames during this game and threw a 145.
In the end, Rush finished in 10th place overall with a 566 Series, just seven pins shy from 6th place and qualifying for the head-to-head finals.  In 16th place was Scheidler with a 549 and right on his coattails was Cook at #18 with a 536.  Lydon's 523 earned him 26th place.  North Allegheny was the only school to have four bowlers within the top 26 positions.  Jorden finished out of the top 40, but he had already pre-qualified for the next round of playoffs.
Five bowlers from NA attended the WPIBL Boys Singles Championships with the team goal being that all five bowlers would move on to the next round of post-season play.  This goal was achieved.
The Tigers will be competing in the Pennsylvania State Western Regional Boys Team and Singles Championships next Friday and Saturday March 5 and 6th at North Versailles Bowling Centre.
Robinson will be competing in the Western Pennsylvania Regional Girls Singles Championships in two weeks on Friday March 12 also at North Versailles.
No spectators are permitted at either event, but you can catch the action through the live stream at the NA Bowling Facebook page.