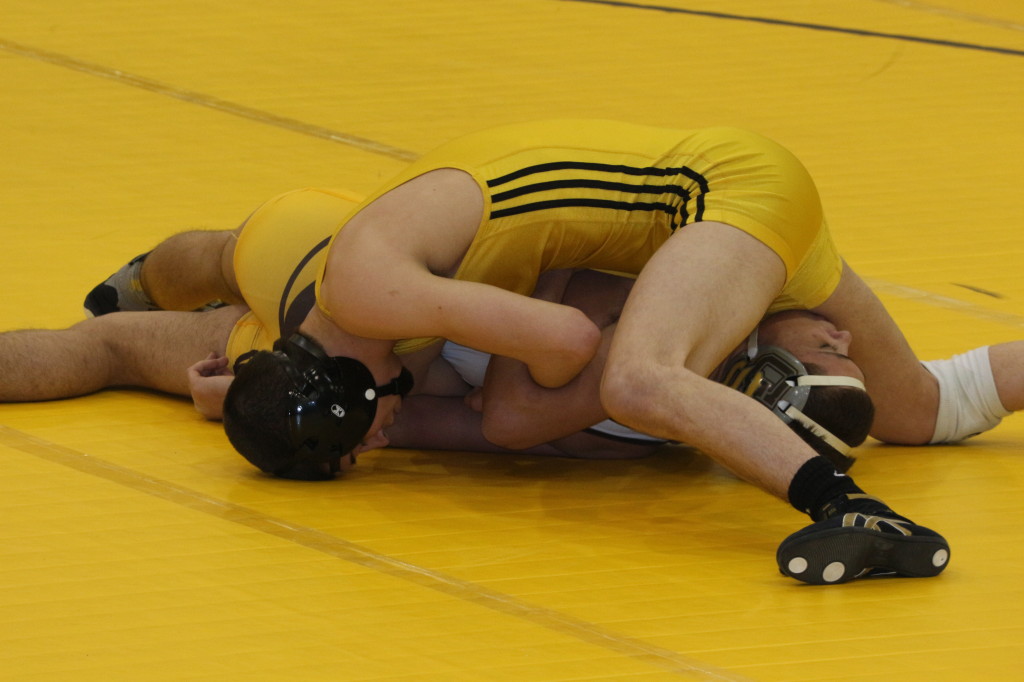 Six Tigers Move On To Day Two Of PIAA Tournament
The exciting start of the PIAA individual wrestling tournament at the Giant Center in Hershey took place on Thursday and six North Allegheny Tigers were a part of the opening ceremonies. Through day one, only one Tiger remained in the winners bracket and that was junior Jake Woodley at 182 pounds. Fresh off a WPIAL championship, Woodley won his 38th bout of the year with a first round major decision over  Jarell Howard-Griffin of Cedar Crest. Woodley will face top-seeded Kyle Gentile (40-3) of Pennridge in the quarterfinals this afternoon.
Sophomore Francis Duggan nearly pulled off a major victory at 195 pounds when he battled top-seeded Jake Jakobson of Stroudsburg. In an intense match, Jakobson managed to hold off Duggan by a slim 1-0 decision. Prior to his match with Jakobson, Duggan quickly disposed of Patrick Walker of Upper Moreland with a win by fall at the 1:36 mark of the first period.
At 106 pounds, sophomore Jacob Downing earned an 8-0 major decision over Brady Sittinger of Cathedral Prep in the preliminary round. In the first round, Brandon Meredith of Spring Ford narrowly defeated Downing by a 6-4 decision.
Luke Landefeld suffered a preliminary round loss to Michael Bracey of Kennard Dale at 126 pounds. The NA junior bounced back in the consolation bracket with a tech fall win over Chris Lasecki of Hazelton, 15-0.
In the 138 pound bracket, junior Jake Hinkson earned a 3-0 win in the preliminary round over Edward Hay of Bangor. However, Hinkson was upended in the first round by Carter Starocci of Cathedral Prep, 4-3.
Finally at 145 pounds, junior A.J. Boeh sustained a 6-2 setback in the preliminary round to Solanco's Wyatt Jennings. Boeh regrouped with a consolation win over a familiar foe, Jake Hartman of Shaler, by a 6-3 decision.
All six NA grapplers remain alive in the PIAA wrestling tournament heading into day two with Downing, Landefeld, Hinkson, Boeh and Duggan all participating in the consolation bracket in their respective weight classes. Class AAA action continues at Hershey at 2:15 pm. You can follow all the action by following our friends at WJPA Radio by click here.
PIAA Class AAA Wrestling Championships - Day One
Thursday, March 10 at Giant Center, Hershey, PA
| Weight | Wrestlers | Score |
| --- | --- | --- |
| 106 - Preliminary RD | Jacob Downing (NA) maj. dec. Brady Sittinger (Cathedral Prep) | 8-0 |
| 1st Round | Brandon Meredith (Sring Ford) dec. Jacob Downing (NA) | 6-4 |
| | | |
| 126 - Preliminary RD | Michael Bracey (Kennard Dale) pinned Luke Landefeld (NA) | 4:41 |
| 1st Consolation | Luke Landefeld (NA) tech fall Chris Lasecki (Hazelton) | 15-0 |
| | | |
| 138 - Preliminary RD | Jake Hinkson (NA) dec. Edward Hay (Bangor) | 3-0 |
| 1st Round | Carter Starocci (Cathedral Prep) dec. Jake Hinkson (NA) | 4-3 |
| | | |
| 145 - Preliminary RD | Wyatt Jennings (Solanco) dec. A.J. Boeh (NA) | 6-2 |
| 1st Consolation | A.J. Boeh (NA) dec. Jake Hartman (Shaler) | 6-3 |
| | | |
| 182 - 1st Round | Jake Woodley (NA) maj. dec. Jrl Howard-Griffin (Cedar Crest) | 13-3 |
| | | |
| 195 - Preliminary RD | Francis Duggan (NA) pinned Patrick Walker (Upper Moreland) | 1:36 |
| 1st Round | Jake Jakobsen (Stroudsburg) dec. Francis Duggan (NA) | 1-0 |