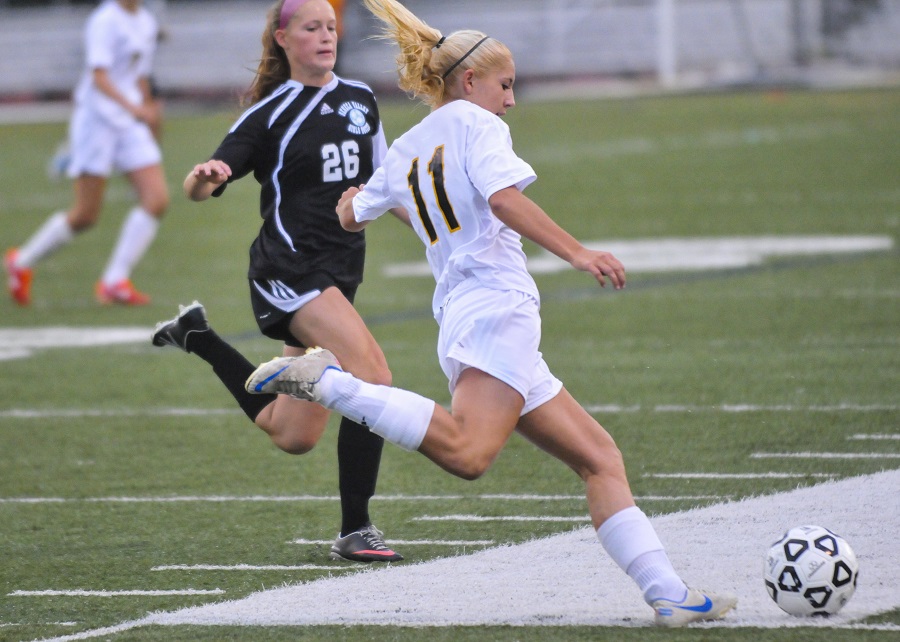 Smychynsky Does It Again, Scores OT Goal To Beat Rams
By Nick Farrell
In the first meeting of the season between the North Allegheny girls and Pine-Richland, nearly 100 minutes of hard-fought, tightly contested soccer was needed to determine a winner. But as the final overtime period neared a close, junior Gabby Smychynsky earned her second game-winning goal in as many games by firing a tough shot passed the Rams' keeper and into the far corner to give North Allegheny (4-1, 3-1) a 1-0 win over Pine-Richland (6-2, 3-2).
The defenses for both teams controlled the tempo of the game early on, with both units surrendering just a few chances. Early in the first half, Savana Yurick tested Rams' keeper Leah Roth from close range with the Tigers' only shot of the half. The Rams tallied two shots and three corner kicks in the first half, but senior keeper Emily Lyon handled each situation easily, recording four saves.
North Allegheny had two solid chances to take the lead late in the second half, but came up empty both times. In the 70th minute, Smychynsky saw her close range shot go wide right. Four minutes later, Margo Weller's shot was saved by Roth. Neither team could break the tie in the waning moments and overtime was needed to find a winner.
Yurick set up the first overtime chance for the Tigers in the 82nd minute after splitting two defenders near the Rams' right corner flag. She set teammate Monica Pike up with a 12 yard shot that was saved by Roth. The Rams had two quality chance later in the period, one of which required a diving save from Lyon after an Amanda Kalin shot.
The two teams continued to exchange chances in the second overtime period, until Smychynsky scored off a through ball from Yurick and an assist from Pike. Smychynsky took two steps inside the 18-yard box and, with a defender on her left side, launched a shot passed Roth and into the left corner of the net.
For the Tigers, Lyon recorded seven saves en route to the second NA clean sheet of the season. Her opponent, Roth, notched five saves. Both teams ended the game with three fouls.