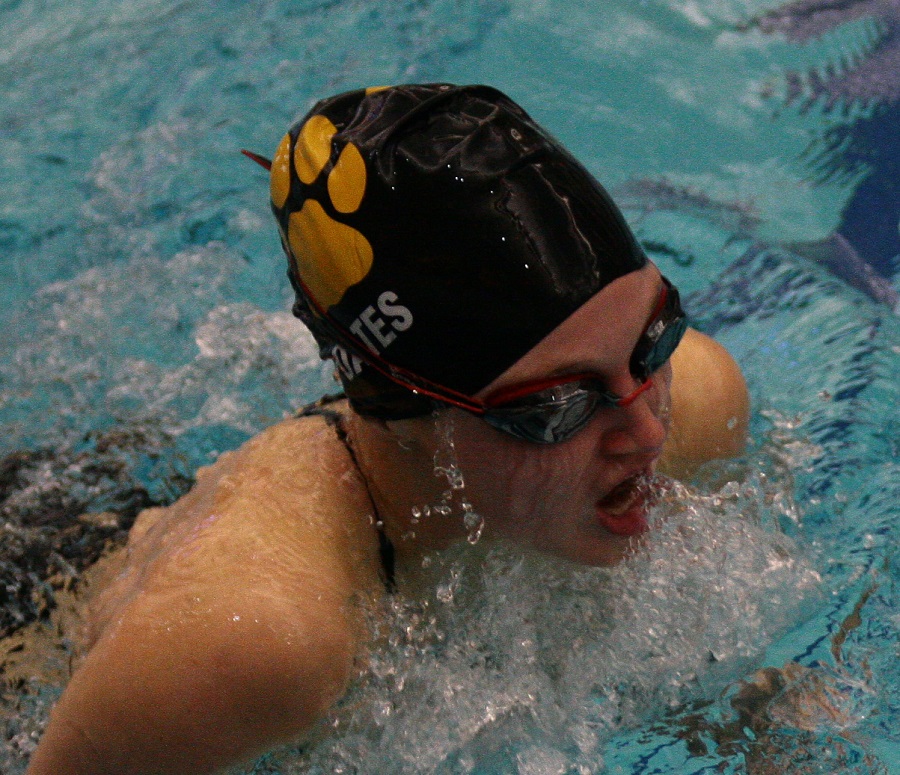 Strong Showing For NA At Bucknell Invitational
The North Allegheny Swimming and Diving Team traveled to Bucknell University this weekend to compete in an eight-team meet and finished strong while in the middle of its hardest weeks of training. The NA boys took third place and the NA girls got fourth place.
The girls took three first place finishes in the meet.  Ella Ogden won the 100 Butterfly, Molly Smyers touched first for the 500 Free, and Torie Buerger took the 100 Backstroke.They also performed well in the relays.  The team of Buerger, Olivia Kisow, Ogden and Smyers finished second for the 200 Medley Relay, and second as well for the 400 Free Relay.  The 200 Free Relay team of Smyers, Lexi Sundgren, Ogden and Buerger took fourth place.
The boys got three first place finishes as well.  Rick Mihm won the 200 IM, Branko Kosanovich took the 100 Butterfly and the 400 Free Relay team of Alex Grahor, Josh Galecki, Kosanovich and Mihm touched first.  They competed strongly in the other 2 relays, both touching second. The 200 Medley Relay Team consisted of Mihm, Jacob McCarran, Kosanovich and Galecki, and the 200 Free Relay Team was made up of Mihm, Galecki, Grahor and Kosanovich.
The NA divers finished well for both the boys and the girls. Christina Shi took first place and Maya Ennis placed sixth.  Will Schenk and Lucas Rodgers finished in 7th and 10th places respectively.
The next meet is against Hampton on Tuesday. The meet starts at 6 p.m. with diving.