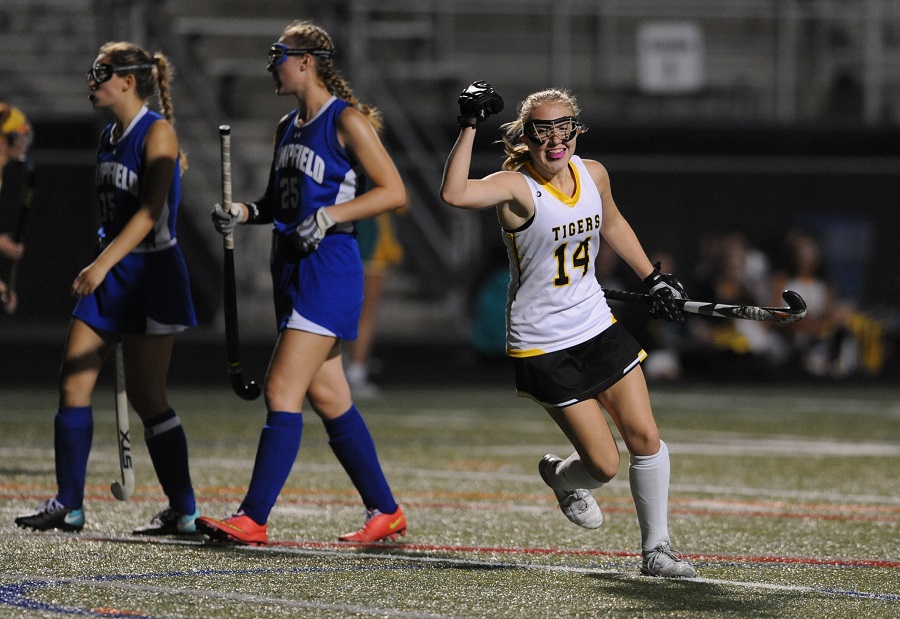 Strong Test For NA At Palmyra Classic
North Allegheny Field Hockey traveled east this weekend to compete in the very competitive Palmyra Cougar Field Hockey Classic. They battled hard against two state-ranked teams but came up short.
NA dropped the first game, 5-0, to Palmyra, last year's state runner-up and host of the classic. The tiger defense and goal tending was tested throughout the game and proved strong, keeping 12 of 17 shots from scoring.  NA finished the second half of the game with several attacks, but were unable to score.
The second game was against the Warwick Warriors from the Lancaster area.  The Tigers had their hands full keeping up with Warrior's fast offensive line.  Warwick had over ten shots on goal, and several more penalty corners; the tiger defense was tested again.  Late in the game North Allegheny was able to punch through when Bridget Russell, on a pass from Angela Genter, scored the lone goal. The game ended with a 7-1 loss for the Tigers.
NA Field Hockey is now 6-2 overall and 4-0 in section play.
NA will face off with Pine Richland this Tuesday at home in a section showdown between the top two teams in Section 1-AAA. The game will be broadcast live via the internet on the North Allegheny Sports Network.
***********
Earlier in the week on Tuesday, the Tigers hosted a section game with the Spartans of Hempfield.  NA mounted a quick attack that resulted in a penalty stoke for the Tigers because one of the defenders covered the ball in the circle. Laura Schwendeman scored the first goal with only 27 seconds off the clock.  Three minutes later Hailey Wachowiak scored on a breakaway pass from Schwendeman.  The scoring continued in the first half with goals from Olivia Scherrer, Wachowiak, and Scherrer.  Assists were made by Izzy Ingram, Jenna Beam, Wachowiak and Schwendeman.  The half ended with NA leading, 5-0
The second half started with much of the same. The Tigers continued to put pressure on the Spartans with long runs from midfielders Angela Genter and Gracie Limauro to set up the offense.  Kayley Cooper scored on a corner pass from Schwendeman.  Cooper scored again minutes later on a pass from Genter when she sent a rocket shot into the cage to make it 7-0.  More Tigers goals came from Alley Barcaskey on a pass from Maria Cima; and Wachowiak got a 'hat-trick' when she sent a drive into the net on a pass from Limauro.  The game ended, 9-0.