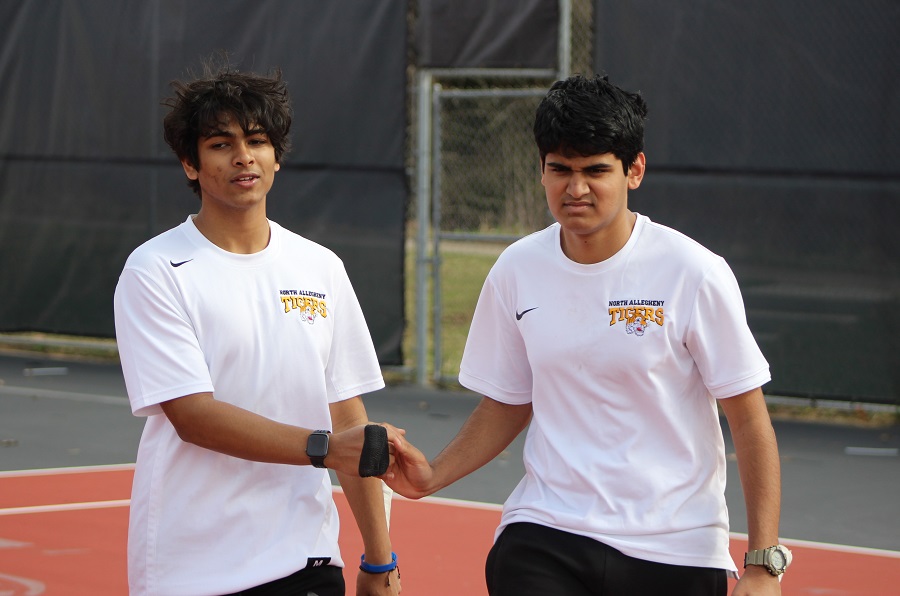 Telang, Ginde Reach Section 2 Semifinals
Day one of the Section AAA-2 Doubles Tennis Tournament was held at the NASH courts Wednesday afternoon, and it proved to be a fine experience for the Tigers.  Junior Sri Bellamkonda and senior Atharva Sumant comprised the NA No. 2 team and drew the overall eighth seed to take on Sewickley Academy's No. 2 team.  The Tigers defeated Alex Quigley and Jayden Garcia 10-2 in the first round.  Next up in the quarterfinals was the Moon No. 1 team and the overall first seed in the tournament.  Struggling with serve control, the NA Tigers lost to the Moon Tigers, Anthony Lounder and Rohan Maheshwari, by a score of 10-4.
The #1 NA team of senior Shomik Telang and junior Raj Ginde drew the overall third seed and took on Pine-Richland's No. 2 entry in the first round, beating Matteo Rovera and Ben Santiago 10-4.  Next up was Sewickley Academy's No. 1 team in the quarterfinal round, Spencer Kryzynski and Tejas Mitra.  The Tigers defeated their sixth seeded opponents 10-5 to earn a semifinal berth.
In the semis, the Tigers tangled with the second seeded North Hills duo of Brandon McEwen and Josh Kim, the Indians' premier team.  The Indians controlled the contest in straight sets, 6-1, 6-3.  All four of the semi-finalists qualified for the WPIAL AAA Doubles Championship to be played next Tuesday and Wednesday on the NASH courts.  In the meantime, Telang and Ginde will face off against Pine-Richland's No. 1 team Friday afternoon in the consolation round of the Section 2 competition.  Match time is at noon, at NASH.
The Tigers team returns to competition Thursday afternoon after a long layoff.  They will face off with Sewickley Academy in a critical Section 2 contest at home, starting at 4 pm on the NASH courts.