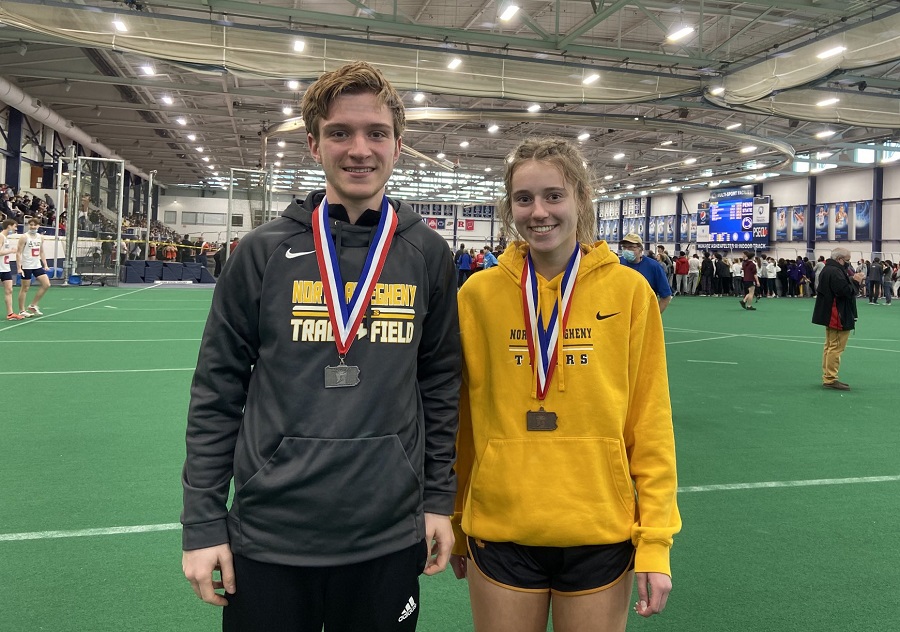 NA Finishes Strong at TSTCA Championship, PFTCA State Championship
The North Allegheny indoor track and field team celebrated the 2022 season with a bevy of terrific performances throughout the campaign, concluding with the TSTCA Indoor Championship and the PTFCA State Championship.
At the TSTCA Championship meet on Feb. 19 at Edinboro University, the Lady Tigers were led by Wren Kucler first place time of 10:10.09 in the 3000m run, followed closely behind by sister Robin Kucler who won silver with a time of 10:15.32. Second place finishes were secured by Rachael Johns in the High Jump, Isabella Costa in the Long Jump and relay performances in the 4x200m relay and Distance Medley Relay.
For the NA boys, Scott Nalepa won gold at the TSTCA Championship in the 3000m run with a time of 8:40.27 and Owen Curran claimed gold in the High Jump. In the 3000, the Tigers swept the top four positions with Jack Bertram taking second place, Ryan Podnar claiming third and Graham Wolfe finishing fourth. Zane Kinne earned a second-place showing in the 800m run with a time of 1:57.57.
At the PTFCA Indoor State Championships on Feb. 27 at Penn State University, Nalepa provided to best performance for the Tigers with a silver medal in the 3000m run by clocking a time of 8:37.28. Wren Kucler notched the best outing for the Lady Tigers with a fifth-place effort in the 3000m run with a time of 10:04.43. Johns also earned a medal with an eighth-place finish in the High Jump.
Congratulations to head coach John Neff and the entire North Allegheny indoor track and field team for another outstanding season.