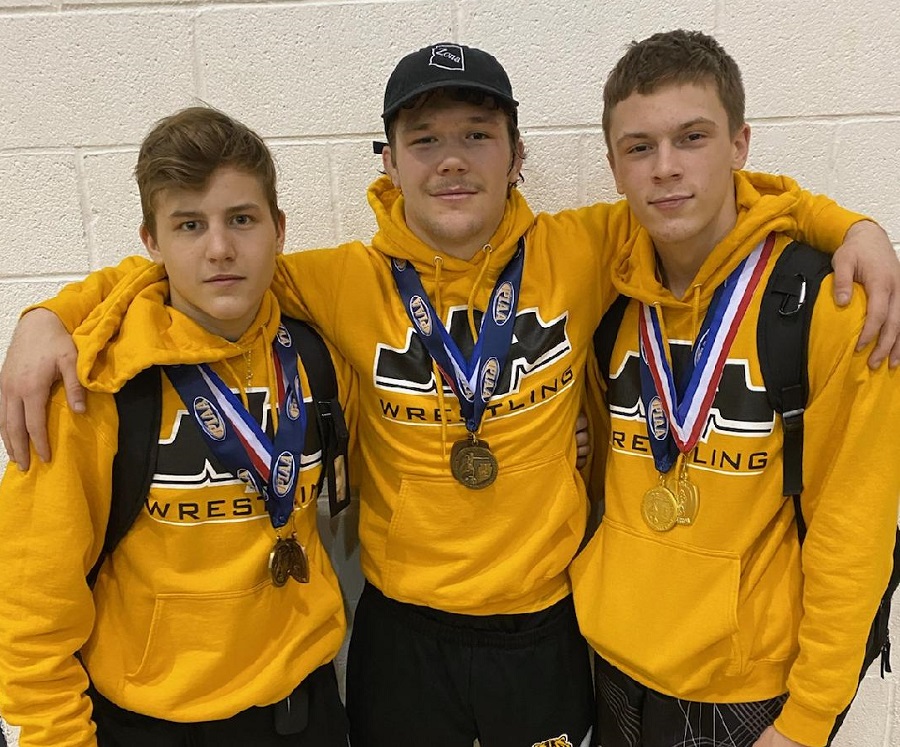 Three Tigers Medal At WPIAL Tournament, Dylan Coy Wins Gold
North Allegheny junior Dylan Coy won a WPIAL title at 120 pounds and two other Tigers won bronze at the WPIAL Class AAA individual tournament on Saturday at Canon-McMillan High School. Adding to an outstanding day for North Allegheny wrestlers, sophomore Nick Gorman (126) and senior Collin McCorkle (160) each won third-place consolation bouts in their respective weight classes to advance to the PIAA Western Super Regional next weekend.
Coy, who took third place at WPIALs last season, opened the 120-pound bracket in the quarterfinals with a dominant 18-2 tech fall over Ryan Klingensmith of Kiski Area. In the semifinals, Coy earned a 7-0 decision over Jacob Houpt of Canon-McMillan and followed with a 4-3 decision against Waynesburg's Mac Church, the top seed in the bracket, to win his first WPIAL crown.
After a quarterfinal round loss for Gorman to begin action at 126 pounds, he rebounded in the consolation bracket with an 8-0 decision against Butler's Nick Schaukowitsch. In second round consolation, Gorman won in a 3-2 UTB against Trinity's Blake Reihner and quickly pinned Connellsville's Mason Prinkey in 48 seconds in the third-place bout.
At 160 pounds, McCorkle opened with a 3-2 decision over Waynesburg's Nate Stephensen in the quarterfinals. McCorkle met a familiar foe in the semifinals and took state medalist Cole Spencer of Pine-Richland to the limit, but narrowly fell by a 1-0 decision. In the consolations, McCorkle bounced back with a win by fall over Christopher Beatty of Chartiers Valley and followed by winning 3-2 UTB over Kiski Area's Enzo Morlacci of Kiski Area in the third-place bout.
Also competing for North Allegheny at the WPIAL Class individual wrestling tournament were Nathan Monteparte (132), Brad Stipetich (138), Max Stedeford (145), Travis Stipetich (172) and Brady Leczo (215). For North Allegheny results, see below.
Coy, Gorman and McCorkle will continue their seasons on Saturday, March 6 at the PIAA Western Super Regional.
WPIAL Class AAA Wrestling Championships
Saturday, February 27 at Canon-McMillan High School
| Weight | Wrestlers | Score |
| --- | --- | --- |
| 120 - Quarterfinals | Dylan Coy (NA) tech fall Ryan Klingensmith (Kiski Area) | 18-2 |
| Semifinals | Dylan Coy (NA) dec. Jacob Houpt (Canon-McMillan) | 7-0 |
| Championship | Dylan Coy (NA dec. Mac Church (Waynesburg) | 4-3 |
| | | |
| 126 - Quarterfinals | Zander Phaturos (Waynesburg) dec. Nick Gorman (NA) | 3-2 |
| 1st Consolation | Nick Gorman (NA) maj. dec. Nick Schaukowitsch (Butler) | 8-0 |
| 2nd Consolation | Nick Gorman (NA) pinned Blake Reihner (Trinity) | 3-2 UTB |
| 3rd Place | Nick Gorman (NA) pinned Mason Prinkey (Connellsville) | 0:48 |
| | | |
| 132 - Quarterfinals | Nate Roth (Latrobe) dec. Nathan Monteparte (NA) | 6-0 |
| 1st Consolation | Nathan Monteparte (NA) dec. Costa Moore (Canon-McMillan) | 3-2 |
| 2nd Consolation | Colton Stoneking (Waynesburg) dec. Nathan Monteparte (NA) | 3-1 |
| | | |
| 138 - Quarterfinals | Cole Homet (Waynesburg) maj. dec. Brad Stipetich (NA) | 12-0 |
| 1st Consolation | Jonah Miller (New Castle) dec. Brad Stipetich (NA) | 3-2 |
| | | |
| 145 - Quarterfinals | Kelin Laffey (Pine-Richland) dec. Max Stedeford (NA) | 5-2 |
| 1st Consolation | Max Stedeford (NA) pinned Michael Kinzey (Armstrong) | 3:32 |
| 2nd Consolation | Ty Linsenbigler (Hempfield) dec. Max Stedeford (NA) | 8-2 |
| | | |
| 160 - Quarterfinals | Collin McCorkle (NA) dec. Nate Stephenson (Waynesburg) | 3-2 |
| Semifinals | Cole Spencer (PR) dec. Collin McCorkle (NA) | 1-0 |
| 2nd Consolation | Collin McCorkle (NA) pinned Christopher Beatty (Chartiers Valley) | 4:01 |
| 3rd Place | Collin McCorkle (NA) dec. Enzo Morlacci (Kiski Area) | 3-2, UTB |
| | | |
| 172 - Quarterfinals | Matthew Furman (Canon-McMillan) pinned Travis Stipetich (NA) | 1:36 |
| 1st Consolation | Travis Stipetich (NA) maj. dec. Manuel Santos (Seneca Valley) | 8-0 |
| 2nd Consolation | Brian Finnerty (Thomas Jefferson) dec. Travis Stipetich (NA) | 2-0 |
| | | |
| 215 - Quarterfinal | Brady Leczo (NA) dec. Caleb Chismar (Greensburg Salem) | 5-3 |
| Semifinals | Logan Harmon (Armstrong) pinned Brady Leczo (NA) | 2:26 |
| 2nd Consolation | Tyler Rohaley (Canon-McMillan) pinned Brady Leczo (NA) | 1:58 |