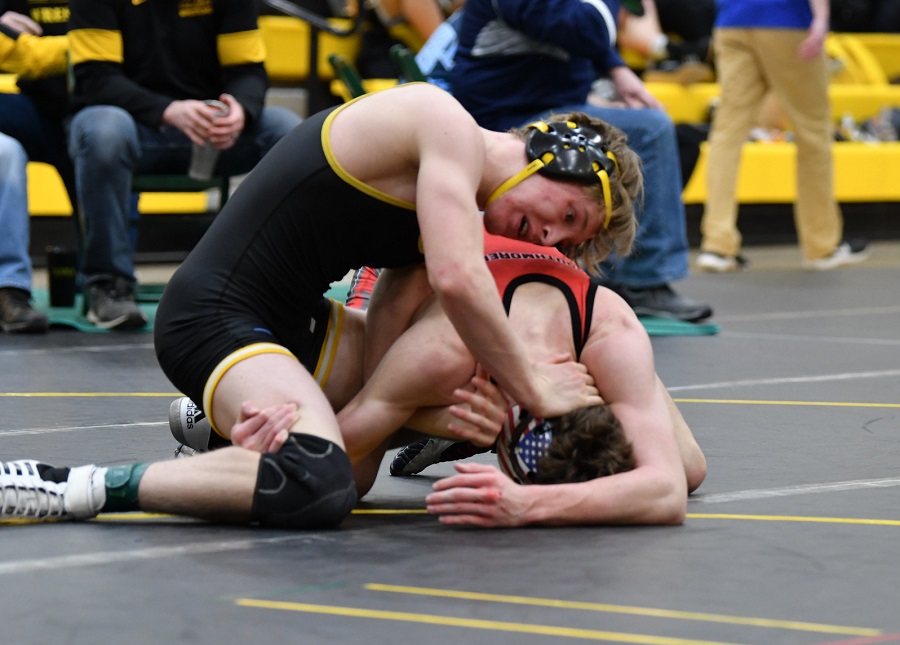 Three Tigers Win Titles At Section 3-AAA Tournament, NA sends 9 to WPIAL Tournament
Three North Allegheny grapplers were crowned champions on Saturday at the Section 3-AAA individual wrestling tournament on Saturday. In all, nine Tigers medaled at the event and punched their ticket to the WPIAL Class AAA individual tournament next week.
Seniors Nathan Monteparte (139), Jayson Flener (145) and Adam Rohan (160) each won individual Section 3 gold.
At 139, second-seeded Monteparte earned a pair of pinfalls before picking up a 3-2 decision by ultimate tiebreaker over top-seeded Kase Chopp of Butler. Flener was the top seed at 145 and rolled through the competition, culminating his trek to a title with a 7-1 decision over Charlie Campbell of Plum in the championship bout. In similar fashion, second-seeded Rohan dominated his opponents in the quarterfinals and semifinals at 160 pounds before earning a 4-2 decision over top-seeded Levi Donnel of Butler.
Freshman Gus Stedeford (107) and junior Aidan Buggey (215) both earned silver medals by reaching the title bout in their respective weight classes.
Third-place medals were captured by junior Casey Walker (114) and freshman Griffen Reid (121). Walker defeated Charlie Colantonio of Central Catholic by a 5-2 decision in third-place consolation at 114. Reid blanked Seneca Valley's Jack Tofanelli, 5-0, in the third-place bout at 121.
Also reaching the third-place consolation at 127 pounds was junior Reid Bentrim and advanced to the WPIAL tournament next week with a fourth-place finish. Additionally, sophomore Kellen Buggey defeated Jacob Eubanks of Seneca Valley in the fifth-place bout by a 6-1 decision to also advance to the WPIAL tournament.
For a look at the entire set of brackets from the Section 3-AAA tournament, click here.
The WPIAL Class AAA individual wrestling tournament is set for March 3-4 at Canon-McMillan High School.