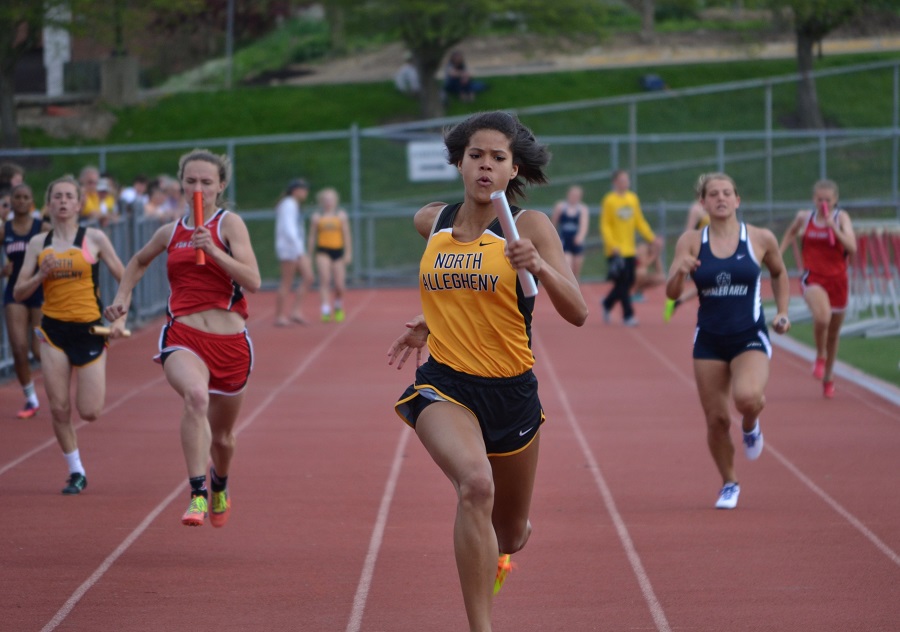 TIGER SCORE BIG AT BALDWIN INVITATIONAL
Late in the night on Friday, North Allegheny head coach John Neff hoisted two trophies in the air. The NATF Girls placed third and the Boys won the 43rd Annual Elite Runners & Walkers/Brooks Baldwin Invitational.  Several Tigers had medal winning performances.  Some of the highlighted events for the girls throughout the day included Josie Landis placing 3rd in the 300m Hurdles and the 4 x400m Relay also placing third by running their fastest time of the season.  (Landis, Aimee Verardi, Anna Verardi, and Natalie Rich).  Sophomore Clara Savchik won the 3200m Run with an impressive 13 second lead over the rest of the field.   Also winning for the Lady Tigers was the 4x100m Relay Team consisting of Aimee Verardi, Autumn Baldwin, Makenna Owens and Melina Owens.    Marc Migliozzi ran his way to 2nd place finish in the 3200m Run as did Jake Stupak in the Mile.  Ijhad Bonner earned the bronze medal by sprinting his way to a 3rd place finish in the 100m Dash.  Ayden Owens won two individual events throughout the night by winning the 300m Hurdles Race and shortly after the 200m Dash.
Some Tiger athletes competed at the Pine Richland Invitational, which is held at the same time as the Baldwin Invitational.   Rachel Runatz and Jetta Kroll both earned 8th place medals. Rachel placed in the Pole Vault while Jetta raced her way to the podium in the 3200m Run.  In the boy's events, the distance crew had 3 medalists as Cam Phillips placed 7th in the 1600m, and in the 3200m Run Jacob Greco placed 5th while Mark Hartigan secured the 4th place medal.  In the field, Jake Fritsch earned the highest podium finish by winning the Javelin.
The Boy's team travels to Baldwin on Monday to compete in the WPIAL Team Championships.  They will be competing against Hempfield, Norwin, and Seneca Valley.