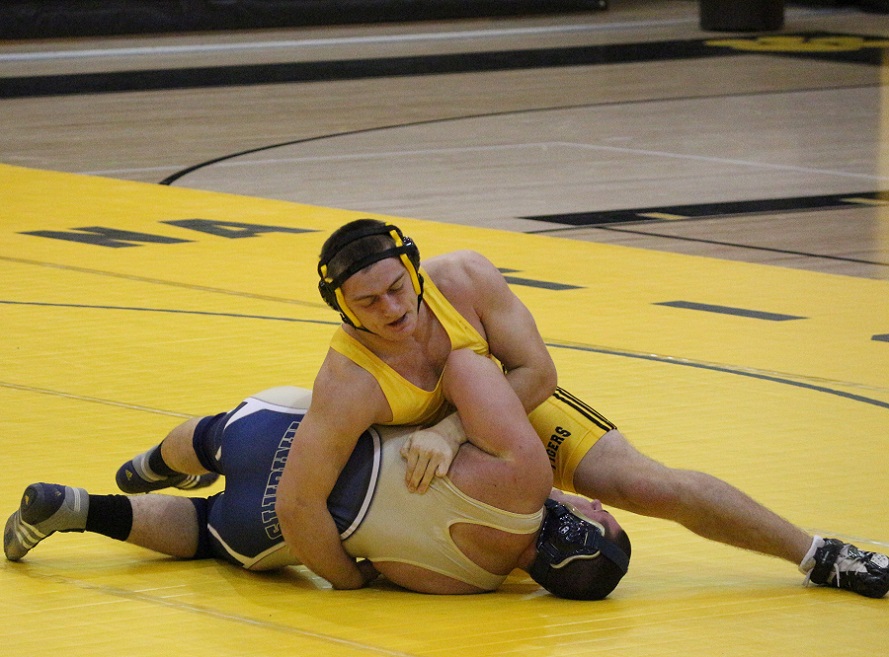 Tigers Batter Butler, 57-9
The North Allegheny wrestlers bruised and battered the Butler Golden Tornado on Tuesday night for a 57-9 victory in Section 3-AAA.  The Tigers had another strong night, collecting six pins to point the way toward victory.  NA's wrestlers who earned pin falls were Jacob Downing (106), Gabe Falo (113), Sean Hoover (152), Clay Byerly (182), Zach Smith (195), and Layne Skundrich (220).
Also contributing big points to the team score were Jake Hinkson (132), A.J Boeh (138) and Sean Kalmeyer (145) who each defeated their opponents by major decision.
North Allegheny improves to 5-0 overall and 4-0 in Section 3-AAA.  Butler falls to 2-3 overall and 1-2 in the section. The Tigers will take on Pine-Richland tonight in a battle of section unbeaten.  The winner will clinch the Sub-Section 3A championship.
Wrestling Match Summary: NA vs. Butler
| Weight | Wrestlers | Score |
| --- | --- | --- |
| 106 | Jacob Downing (NA) pinned Isaiah Christy (BU) | 1:45 |
| 113 | Gabe Falo (NA) pinned Shane Culp (BU) | 1:16 |
| 120 | Zack Stedeford (NA) dec. Connor Foust (BU) | 4-2 |
| 126 | Samuel Dietrich (BU) dec. Harley Hartle (NA) | 3-1 |
| 132 | Jake Hinkson (NA) maj. dec. Scott Dietrich (BU) | 12-1 |
| 138 | A.J. Boeh (NA) maj. dec. Caleb Baxter (BU) | 13-0 |
| 145 | Sean Kalmeyer (NA) maj. dec. Donovan Malovich (BU) | 10-0 |
| 152 | Sean Hoover (NA) pinned Jacob Minton (BU) | 0:53 |
| 160 | Jeremiah Bortmas (BU) dec. Jacob Woodley (NA) | 3-0 |
| 170 | Thomas Greaves (BU) dec. Jacob Fritch (NA) | 3-1 |
| 182 | Clay Byerly (NA) pinned Nicholas Roth (BU) | 4:37 |
| 195 | Zach Smith (NA) pinned Justin Johnson (BU) | 2:18 |
| 220 | Layne Skundruch (NA) pinned Eli Hartung (BU) | 2:48 |
| 285 | Jeff Clemens (NA) wbf | |