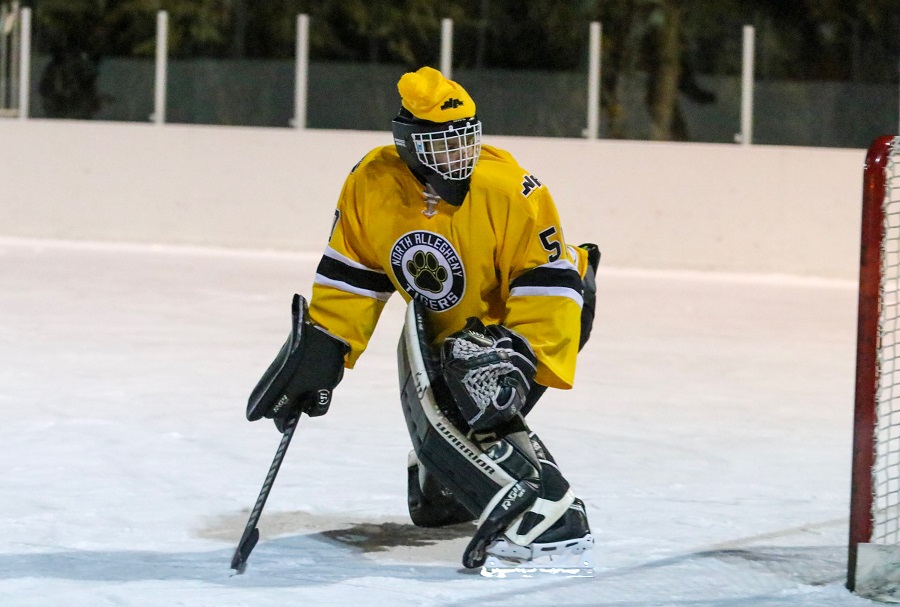 Tigers battle elements, Seneca Valley to 2-1 victory
by Jonathan Spina
North Allegheny and Seneca Valley typically play each other twice a year so there was nothing out of the ordinary about the matchup. What made the event out of the ordinary, was this one was played outdoors at the North Park skate rink. The Tigers battled the elements and the Raiders to a 2-1 victory on a cold Monday night.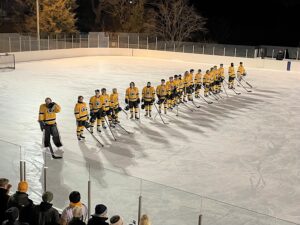 With the temperature on the rink around 15 degrees, the Tigers and Raiders used the first period to get used to the choppy ice, wind and different surroundings than your typical night at the ice rink. The first period was a feeling out process and it was scoreless heading into the second period.
Seneca Valley started the period strong hitting the cross-bar on a surprise shot early into the period. Things were at a stand still until Trey Gallo got the puck with seven seconds left and went coast to coast and finished a rebound shot at the buzzer and the Tigers led 1-0 after two periods.
The Raiders were unlucky again to start the third period when they had another great start but were turned away by the post once again. Gallo would pick up a very important insurance goal with 3:38 left in the game to give the Tigers a 2-0 lead. One minute and fifty seconds later, Seneca Valley made things interesting scoring to make the game 2-1 with the goalie pulled. The Tigers were able to control the puck the rest of the way and finished with the 2-1 victory.
Gallo finished with two goals and Rylan Murphy was phenomenal in net stopping 22 of 23 shots. Travis Lamark, Nate Spak and Connor Chi all picked up assists.
North Allegheny improves to 11-1-0 with 22 points. They sit atop of Class AAA 3 points clear of Peters Township. Seneca Valley falls to 6-5-0 with 12 points. They currently sit in 5th place. Up next for the Tigers will be next Monday, when the Tigers host Baldwin at 9:00 pm at the Baierl Ice Complex.
Ice Hockey Summary vs. Seneca Valley, 1-3-22
| GAME SUMMARY | | | | |
| --- | --- | --- | --- | --- |
| SCORE BY PERIODS | 1 | 2 | 3 | FINAL |
| Seneca Valley | 0 | 0 | 1 | 1 |
| North Allegheny | 0 | 1 | 1 | 2 |