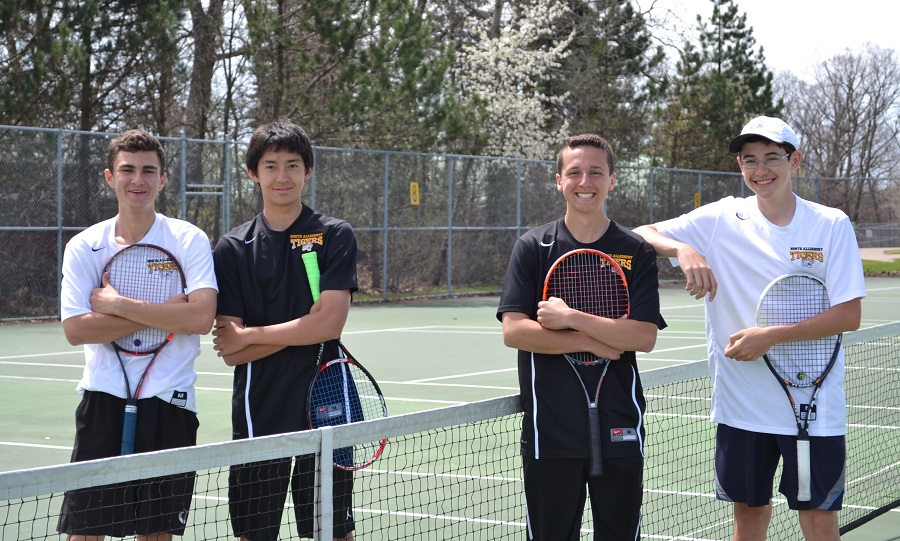 Tigers Beat Mt. Lebanon 4-1, Advance to WPIAL Finals
Playing at the Greensburg Racquet Club Wednesday evening, the 2nd seeded Tigers tangled with the 5th seeded Mt. Lebanon Blue Devils in the WPIAL Semi-Finals and came away with a 4-1 decision.  Falling behind by a point after the first contest was decided at number one doubles,  the Tigers roared back with three, straight-set wins in the singles slots.  Sophomore Richard Hofmann defeated Christian Vietmeier at number two, senior Jared Isaacs took out nemesis Charlie Strohl at number one, and sophomore Ivan Voinov beat Michael Wilke to clinch the match.   Rounding out play, the freshman tandem of Mark Chuirazzi and Jerry Huang prevailed in number two doubles.
With the win, the Tigers advance to the WPIAL Finals Friday against Fox Chapel and automatically qualify for the PIAA playoffs which begin next week. The Tigers move to 17-1 on the regular season and will take on the Foxes at 2:30 PM at the Glen Creek Tennis Club in  South Park Township.  The championship round will feature a re-match of the first WPIAL contest for both teams.
Match Summary
Mt. Lebanon—4   North Allegheny—1
Singles
#1  Jared Isaacs (NA) def. Charlie Strohl (Mt. Leb.) 6-1, 6-0
#2  Richard Hofmann (NA) def. Christian Vietmeier (Mt. Leb.) 6-1, 6-0
#3  Ivan Voinov (NA) def. Michael Wilke (Mt. Leb.) 6-2, 6-4
Doubles
#1  Sam Bellini/Kyle Carscadden (Mt. Leb.) def. Andrew Chuirazzi/Ethan Schenk (NA) 6-0, 6-0
#2 Mark Chuirazzi/Jerry Huang (NA) def. Jackson Schults-Albert/Ryan Stentz (Mt. Leb.) 6-2, 6-3