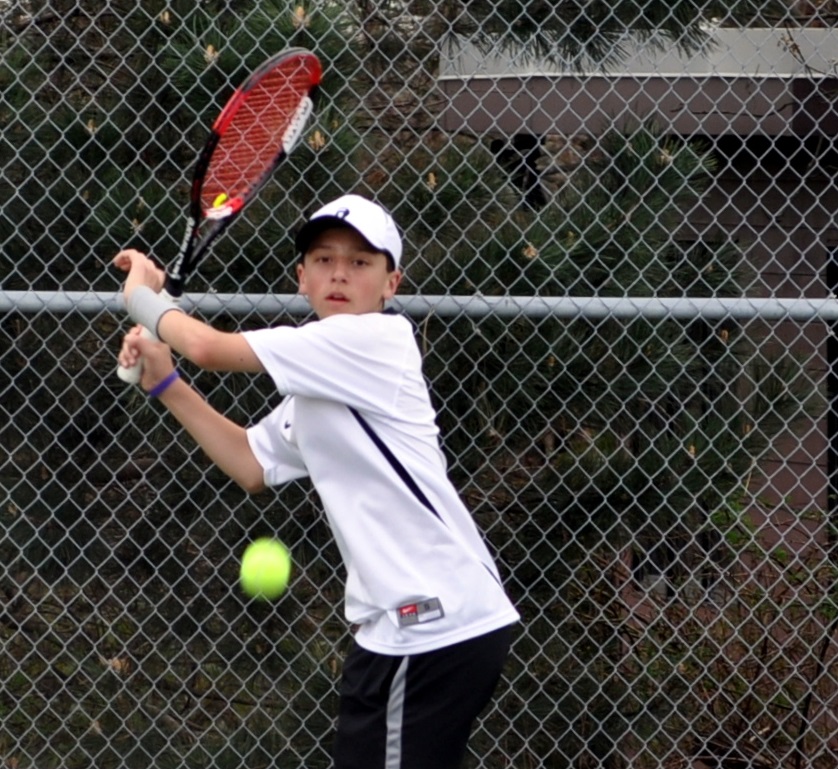 Tigers Beat Pine-Richland, 3-2, In Key Section Match
Trying to escape the last traces of winter on the first day of spring, the Tigers tennis squad moved indoors to the Lakevue Racket Club Thursday afternoon to tangle with arch-rival Pine-Richland in a key Section 2 match early in the 2014 campaign.  Each of the five matches resulted in straight set wins, with the Tigers holding on for a hard fought 3-2 victory against the very talented Rams squad. 
Opening the scoring for the Tigers were junior Michael Helkowski and sophomore Apoorv Anand at number two doubles against Cullen Young and Aaron McClure.  The second team point came courtesy of first doubles where senior Stephen Chuirazzi and junior Eric Huang were pushed hard in an outstanding match against Jacob Jeanson and Jonah Crouse. 
The third and clinching point came from the racquet of second year starter, sophomore Jared Isaacs.  After taking the first set 6-3 from Ben Vinarsky, Isaacs found himself up 3-0 (and 40-love) in the second set, seemingly in control, before Vinarsky rammed back.  Reeling off 4 straight games to tie the set, Vinarsky then broke Isaacs to lead 5-4.  The game sophomore then competed at a higher level to break back and save the set.  At 5 all, both players held serve, leading to the tie break where Isaacs regained control with a 7-3 score to seal the important match for the Tigers. 
Rounding out play, Senior Kylie Isaacs played a spirited match at number one singles with Section 2 stalwart Caleb Kramer, with Kramer holding on for the victory.  Sophomore Andrew Xu also competed well in a tight match against Sid Iyer at number three. 
Moving to 3-0 on the young season, the Tigers look to improve their Section 2 record with a match Friday afternoon versus Hampton.  The starting time for this home match on the NASH courts against the Talbots is scheduled for 3:30 PM.
Match Summary (3/20/14)
NORTH ALLEGHENY—3  Pine-Richland–2
Singles
#1  Caleb Kramer (PR) def. Kylie Isaacs (NA) 6-4, 6-3
#2  Jared Isaacs (NA) def. Ben Vinarsky (PR) 6-3, 7-6 (7-3)
#3   Sid Iyer (PR) def. Andrew Xu  (NA) 6-4, 7-5
Doubles
#1  Stephen Chuirazzi/Eric Huang (NA) def. Jacob Jeanson/Jonah Crouse (PR) 6-4, 6-4
#2  Michael Helkowski/Apoorv Anand (NA) def. Cullen Young/Aaron McClure (PR) 6-2, 6-1