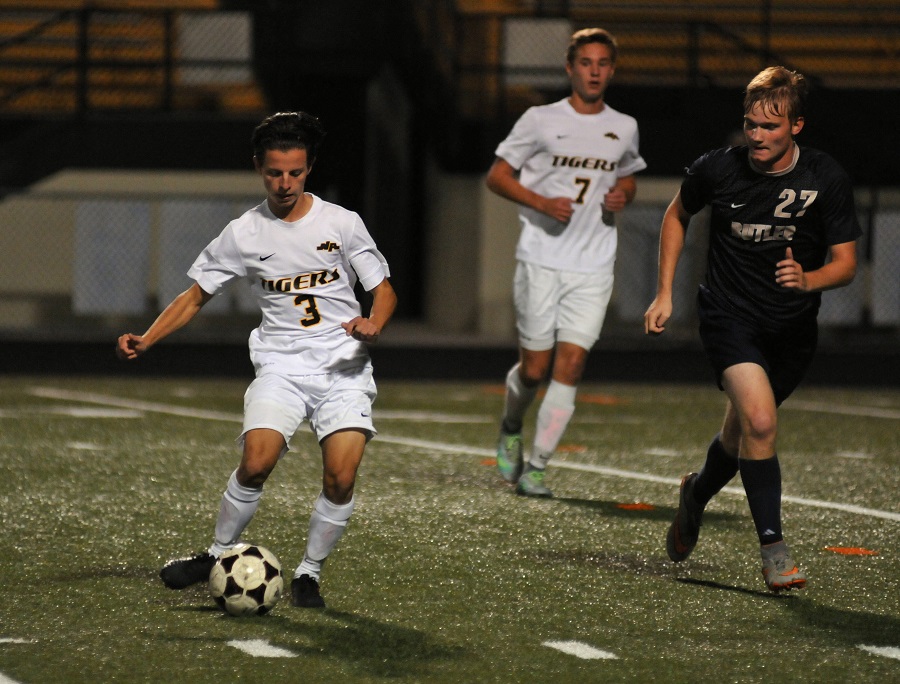 Tigers Blank Butler For Section Win, 1-0
In yet another important Section 1-AAAA contest, the North Allegheny Tigers prevailed, 1-0, over the Butler Tornado on Thursday evening at Newman Stadium.
The first half was one of ebbs and flows as both sides created scoring chances.  The Tigers had several chances off corner kicks, including a header by Nick Williams and a shot from close-in by Owen Leonard, and another strong chance off a nice move by Cam Yurick, but in all three cases couldn't convert.  At the same time, the Tigers' mid-field and defense contained Butler's offense and keeper Grant Glorioso played his usual aggressive game capturing loose balls in the box, with the result being a halftime score of 0-0.
The Tiger offense took control in the second half, putting relentless pressure on the Butler defense and keeper.  Will Brunner, Zac Marzula and Nathan Muckle led the charge with the Tigers finally breaking the scoreless tie on a Josh Rouser goal at 26:25 of the second half after a flurry of shots on the Butler net.  The Tigers didn't let up as Sean Atwater rocked a shot off the left post at 24:15 and Ryan Earle and Jonathan Ross created scoring chances in the last 10 minutes.  The pressure allowed Butler few opportunities to counter-attack and the Tigers prevailed, 1-0.
With the win the Tigers' Section record is now 5-1-3 with an overall record of 9-1-4, justifying MSA Sports' ranking of the Tigers as No. 3 out of 26 teams in WPIAL Class 4-A. The Tigers next game is a non-section contest Saturday at Class 3-A powerhouse Thomas Jefferson.