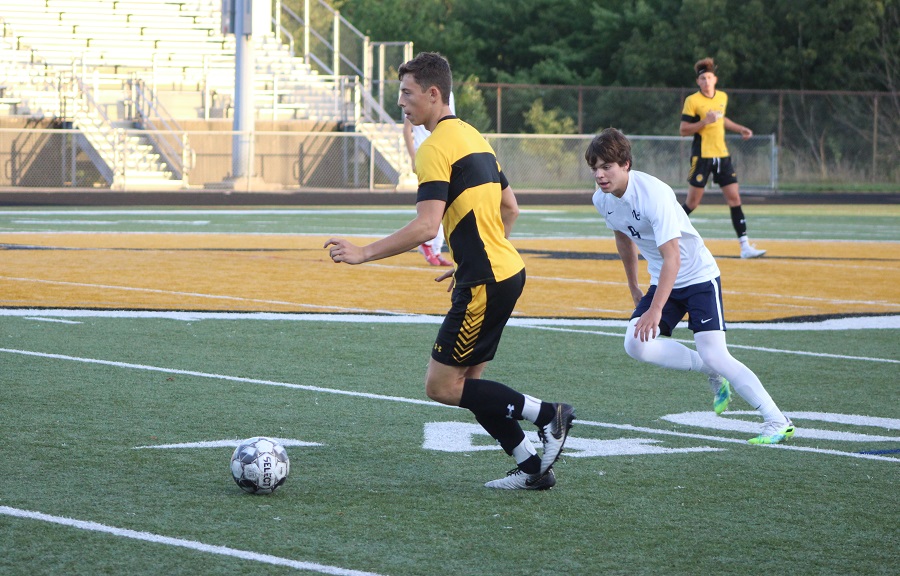 Tigers Blank Panthers, 1-0
By Bob Orkwis
In a rematch of last season's 1st round playoff match up, North Allegheny posted its second straight shutout and 10th of the season beating the Upper St, Clair Panthers 1-0 in a non-section game at Newman Stadium.
The Panthers, who knocked the Tigers out of the post season last year with a 2-0 win, started the match strong in the first ten minutes. Their best opportunity came of the foot of senior forward Jack Myers who missed the far post on a free kick opportunity. After the early surge, North Allegheny turned the tide with relentless possession. Senior forward Kensly Owens was denied at the near post by Panthers goalkeeper Dev Patel in the 17th minute. Junior forward Evan Anderson had two good opportunities back to back. The first, in the 18th minute saw the Panthers defense clear away an attempted centering pass. Then Patel denied Anderson in the 23rd minute and the junior stopped a pair of Tigers attempts in the 24th minute. Despite the territorial advantage for North Allegheny, the game was scoreless at the half.
The pattern remained the same in the second half with the Tigers dominating the ball. Senior forward Evan Cole, who was active in the first half on offense, nearly scored the game's first goal in the 44th minute when he took a cross from Anderson, but his shot hit the crossbar and the game remained 0-0. The Tigers finally broke the ice in the 53rd minute of play off a corner kick. Junior Brandon Marzula's cross was settled at the far post by Sean Moore, who the deposited the ball into the far side of the net for the 1-0 lead. The goal was the senior's 5th of the season.
Will Stasko had a golden opportunity to pad the lead in the 75th minute, but his shot was denied in close. The best scoring chance for the Panthers came for sophomore Andrew Popp. Popp nearly chased down a long through ball on the left side, but goalkeeper Mikkel Hindsbo made an extremely aggressive sliding save to deny the opportunity and preserve the shutout. Hindsbo, who replaced Regan Racicot to start the second half, made two saves. Racicot made one save in the game's first forty minutes as the seniors shared the shutout victory for the Tigers.
By netting the game's only goal, Moore was chosen as the Wright Automotive Player of the Game.
Upper St. Clair dropped to (7-5-1) on the season with the loss. The win, North Allegheny's second straight and 8th in nine games, improved the Tigers record to (11-2-1).
Both Upper St. Clair and North Allegheny have qualified for the 2020 WPIAL playoffs. The Tigers finish their regular season with a non-section home match against Allderdice on Wednsday.