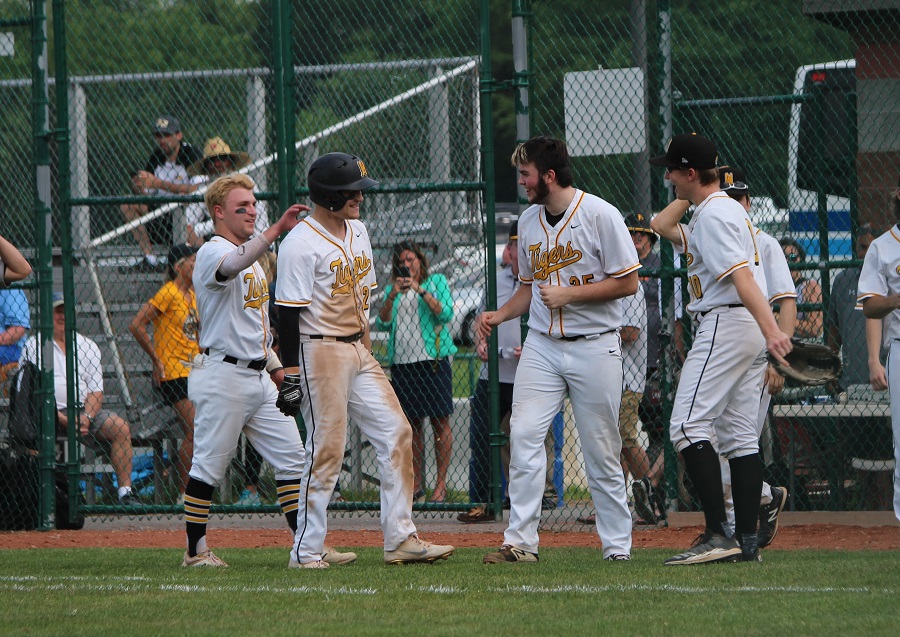 Tigers Blow Away Golden Tornado In WPIAL Semifinals, 10-0
Photo Gallery by Megan Manesiotis
For the second time this postseason, the North Allegheny baseball team earned a 10-run rule victory. This time, the top-seeded Tigers whitewashed the fourth-seeded Butler Golden Tornado by a 10-0 decision in six innings in the WPIAL Class 6A semifinals on Tuesday afternoon at Matulevic Field. Its NA's sixth consecutive win over its section rival and the second consecutive season the Tigers have ended Butler's season. North Allegheny also defeated Butler 4-2 in the WPIAL quarterfinals in 2019.
The Tigers stormed out to a 4-0 lead in the first inning against the Golden Tornado. Senior Ethan Gavlik scored the game's first run on a Butler throwing error and senior Danny Gallon brought home another with an RBI single for a 2-0 lead. Later in the inning, senior Joe Manesiotis added a two-run single to increase the NA advantage to 4-0.
North Allegheny chased Butler starter Cooper Baxter, who entered the game with a 0.81 ERA, in the third inning following a leadoff double by Gallon. Reliever James Desmond retired one batter upon entry, but surrendered an RBI double to Manesiotis and the Tigers led, 5-0.
Desmond pitched out of a bases loaded jam in the fourth inning but was hit around by the Tigers' hot bats in the fifth. Sophomore Spencer Barnett smashed a solo home run over the rightfield fence for a 6-0 lead. It was the second straight game that Barnett homered, giving him seven on the season.
Not done yet in the frame, Manesiotis scored on a balk later in the inning by Butler reliever Max Schnur and David Posey delivered an RBI single for an 8-0 lead.
In the sixth inning, Logan Andreyko led off with a double, and an out later, advanced to third on a single by Gallon. After Barnett was intentionally walked, Andreyko raced home on a wild pitch, bringing the score to 9-0, Tigers. Manesiotis finished off a 4 for 4 day with an RBI single to score Gallon and invoke the 10-run rule for a 10-0 victory. Manesiotis finished with three singles, a double, a stolen base, a run scored and four RBI making him an easy selection for the Wright Automotive Player of the Game.
On the mound, Brady Palmer was nearly untouchable, tossing a three-hit complete game shutout. Palmer struck out nine batters, while walking only one to improve to 5-0 on the season. Baxter suffered the loss, permitting five runs on six hits in two innings on the bump.
North Allegheny improves to 19-3 on the season and will play in the WPIAL championship game next week. The Tigers advance to the WPIAL championship game for the third time in the last four season. The WPIAL title tilt will be broadcast live via the internet on the North Allegheny Sports Network.
Box Score - Baseball vs. Butler - 05/25/2021
| Score by Innings | 1 | 2 | 3 | 4 | 5 | 6 | 7 | R | H | E |
| --- | --- | --- | --- | --- | --- | --- | --- | --- | --- | --- |
| Butler | 0 | 0 | 0 | 0 | 0 | 0 | X | 0 | 3 | 2 |
| North Allegheny | 4 | 0 | 1 | 0 | 3 | 2 | X | 10 | 15 | 0 |
WP - Brady Palmer (5-0) LP - Cooper Baxter