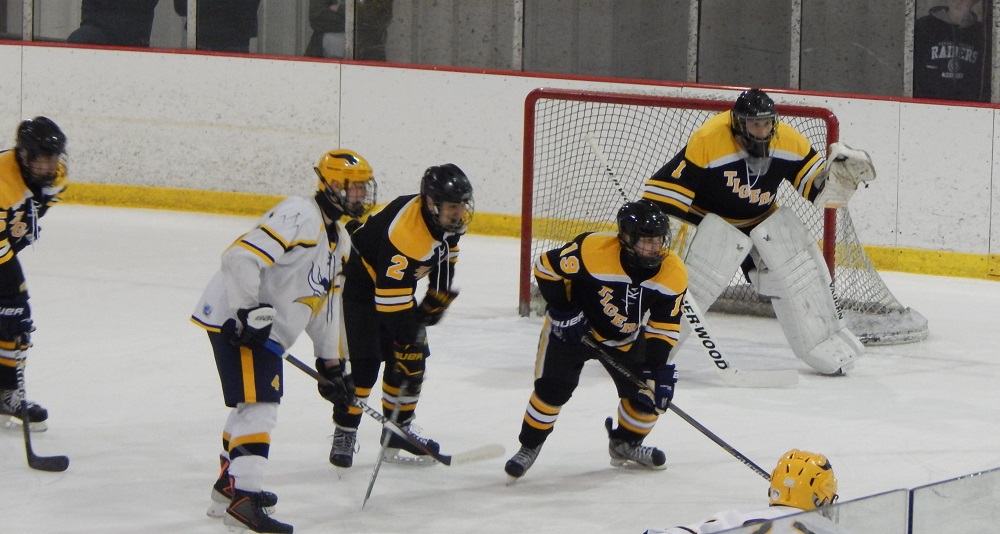 Tigers Bury Butler Under Second Period Avalanche
North Allegheny buried the Butler Golden Tornado with an avalanche of second period goals for a 10-4 triumph on Monday night at the Ice Connection of Pittsburgh. The Tigers' six goals in the second period turned a close game into a laugher over a formidable foe.  The blowout victory extends NA's unbeaten streak to nine consecutive games.
North Allegheny opened the scoring in the first period on a power play goal by Erik Chidester, but the Golden Tornado answered back with a marker by Garet Banner to even the score at 1-1 at the 13:21 mark of the period. Just 31 seconds later, the Tigers regained the advantage on a tally by Michael Kramer to bring the score to 2-1, North Allegheny, heading to the second period.
The floodgates opened the second period the Tigers fired in goal after goal past Butler net minder Jacob Curry. Kramer, Nathan Taylor, Joseph Zappia III, Tyler Wilson, Cameron Fisher, and Payton Landman all scored goals for NA in the period to put the Tigers in front 8-2.  Chidester and Jonathan Parks added goals for the Tigers in the third period to close out a 10-4 victory. NA goalie Joseph Hubert stopped 21 pucks to earn the win in net.
North Allegheny remains in first place in the Class AAA standings, now sporting a record of 15-2-4.  Butler drops to 10-8-3 on the year. The Tigers wrap up the regular season on Monday with a home contest against the Seneca Valley Raiders.
Ice Hockey Summary vs. Butler, 2-16-15
| GAME SUMMARY | | | | |
| --- | --- | --- | --- | --- |
| SCORE BY PERIODS | 1 | 2 | 3 | FINAL |
| North Allegheny | 2 | 6 | 2 | 10 |
| Butler | 1 | 1 | 2 | 4 |
Ice Hockey Individual Scoring vs. Butler
| INDIVIDUAL STATS | | |
| --- | --- | --- |
| FIRST PERIOD | | |
| North Allegheny | Erik Chidester (Daniel Bostedo, Joseph Zappia III) - PP | 1:55 |
| Butler | Garet Banner (Benjamin Rodgers) | 13:21 |
| North Allegheny | Michael Kramer (Ian Cunningham, William Rahenkamp) | 13:52 |
| SECOND PERIOD | | |
| North Allegheny | Nathan Taylor (Dominick Zangaro, Tyler Wilson) | 3:12 |
| North Allegheny | Zappia (Rahenkamp) | 4:26 |
| North Allegheny | Kramer (Cameron Fisher) | 6:28 |
| North Allegheny | Wilson (Taylor) | 8:29 |
| Butler | Jonathan Fair (Christopher Martin) | 13:48 |
| North Allegheny | Fisher (Rahenkamp) | 14:25 |
| North Allegheny | Payton Landman | 15:44 |
| THIRD PERIOD | | |
| Butler | Dustin Davis (Marcus McCall) - PP | 5:25 |
| North Allegheny | Jonathan Parks (Cunningham, Steven Dietz) | 9:05 |
| Butler | Connor Scott | 11:11 |
| North Allegheny | Chidester (Rahenkamp, Bostedo) - PP | 15:38 |