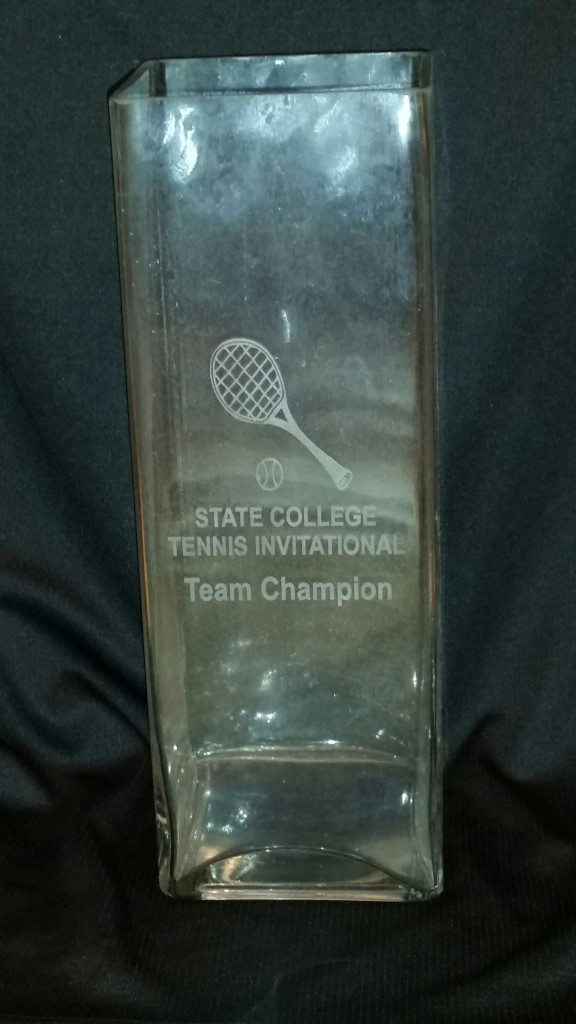 Tigers Capture Title at State College Boys Tennis Invitational
The NA Tigers travelled to State College, PA, Saturday and completed 7 ½ hours of competition by taking the title at the prestigious State College 2015 Boys Tennis Invitational.  Competing against State College, Dallastown and Wyoming Seminary Academy, the Tigers came out on top of the competition by scoring 18 total points in the tourney.  The Tigers captured five first place slots (3 points apiece), one second place spot (2 points) and one third place position (1 point).
Leading the way for the Tigers was junior Jared Isaacs, the number one seed in the tournament who went on to take the honors at number one singles.  Freshman Richard Hofmann captured the crown at number two singles.  The team of junior Andrew Xu and sophomore Ryan Marczak won at number one doubles while senior Eric Huang and freshman Andrew Chuirazzi prevailed at number two doubles.  Junior Apoorv Anand and senior Michael Helkowski took the number three doubles title while juniors Aamir Khan and Eric Mi finished second in the number four doubles competition in three grueling sets.  Freshman Ivan Voinov took third place at number three singles while the team of senior Rohan Yadav and sophomore Anmol Anand swept the competition in the exhibition doubles category.
Championship & Consolation Match Summaries/2015 State College Invitational (4/11/15)
NORTH ALLEGHENY—18
State College—15
Dallastown—9
Wyoming Seminary–0
Singles
#1  Jared Isaacs (NA) def. Matt Wherehy (SC) 6-4, 6-2                                            
#2  Richard Hofmann (NA) def. Dan Schull (SC) 7-6 (5), 6-2  
#3  Ivan Voinov (NA) def. Andrew Kim (WS) 6-1, 6-1 (3rd place match)
Doubles
#1  Andrew Xu/Ryan Marczak (NA) def. Dave Trimmer/Sachin Venkatesh (DT) 6-4, 6-0
#2  Eric Huang/Andrew Chuirazzi (NA) def. Sebastian Forest/Matt Bristol (SC) 6-2, 6-4
#3  Apoorv Anand/Michael Helkowski (NA) def. Lucas Forest/Terrence Li (SC) 6-1, 6-3
#4  Aleaf Manand/Matt Driban (SC) def. Aamir Khan/Eric Mi (NA) 7-6 (3), 6-7 (2), 7-6 (3)
Exhibition Doubles 
Rohan Yadav/Anmol Anand (NA) def. Collin Vollmer/Garret Schumaker (SC) 8-6