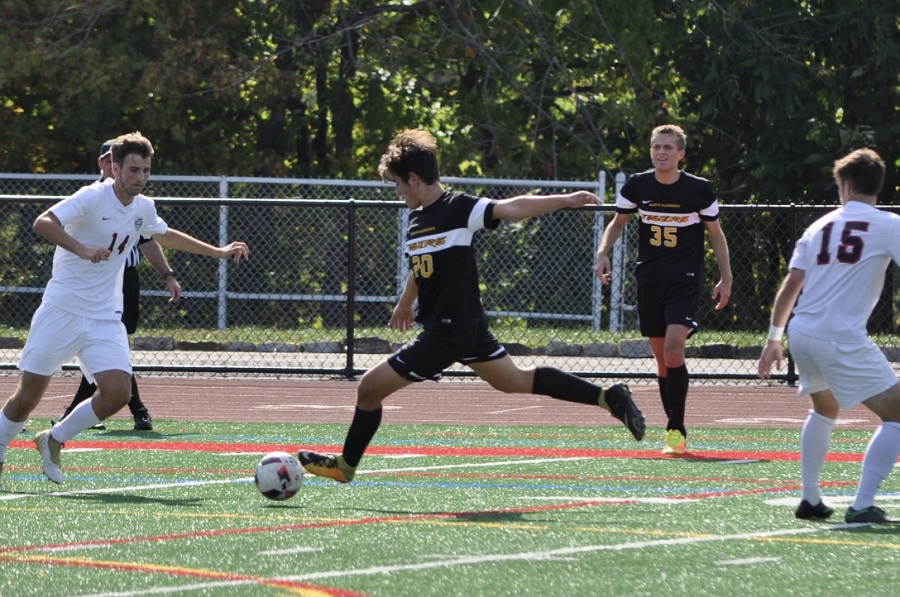 Tigers Claw Past Panthers, 1-0
The NA Tigers took a break from Section I play on Saturday to travel south to visit the Upper Saint Clair Panthers and came away with a hard-fought 1-0 victory.
In the first half, head coach Bobby Vosmaer put a line-up on the field that showcased the strength of the NA roster.  The defense of Isaac Ciocca, Stanley Owens, Brennan Donovan and Nikolas Hindsbo, the mid-field of Ian Wilson, Kyle Kaczmarek, Michael Mitole and Austin Smith, and the two forwards Sam Wilson and Jonathan Ross played aggressively and to great affect against a strong USC team.  Keeper Grant Glorioso made four saves and was strong in the box, and Drew Hunker came-in for an injured Owens to help keep the score 0-0 at halftime.
In the second-half, the Tigers took control as a new slate of rested players took the field and wore down the USC squad.  The Tigers dominated possession time and generated 6 corner kicks to none and broke the scoreless tie with 23:06 remaining when Nico Ramirez took a throw-in from Josh Rouser, gained control and rifled a shot from 20 yards out into the top-left corner of the goal.  The lead held-up as the Tigers weathered both the heat and the USC pressure with keeper Devon Angermeier leaping to gather in a USC direct-kick in the final seconds to preserve the win.
With the victory the Tigers' record is now 9-2 overall and 5-0 in Section 1.   The team returns to the pitch on Tuesday, September 26 with an all-important Section 1 visit to play the Seneca Valley Raiders. The game will be broadcast on the North Allegheny Sports Network on a special pay-per-view ($5.00) video stream.