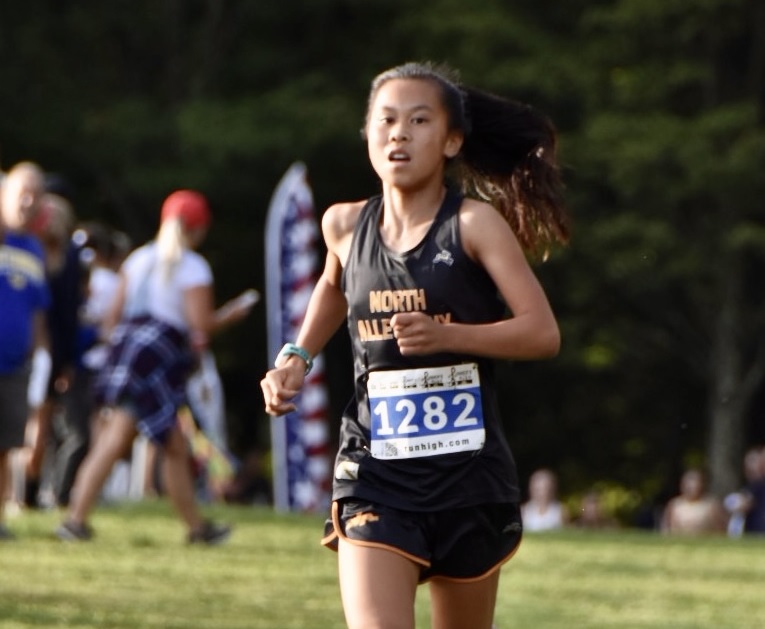 Tigers Conclude Section Slate With Sweep Of Butler, Shaler
by Cross Country Contributor
The North Allegheny cross country team wrapped up the dual meet season on Tuesday against Shaler and Butler at Butler high school. Both the NA Boys and Girls swept their opponents on a challenging course.
The Lady Tigers won, 15-48, against Butler and had a perfect score against Shaler, 15-50. Sophomore sisters Wren and Robin Kucler took first and second, respectively, on the difficult course. Juniors Erin McGoey and Eva Kynaston and senior Grace Rowley were right behind Robin, grabbing spots 3-5.  Sophomores Camille Swirsding and Elizabeth Pizon took seventh and eighth to round out the varsity scoring.
The NA Boys team defeated Butler, 20-41, and beat Shaler by default (incomplete team). Sophomore Jack Bertram was second behind Butler's top runner.  Running very strong were seniors Gregory Kossuth and Nick Betler, snatching third and fourth, respectively. Junior Michael Gauntner was fifth and senior Jackson Pajak was sixth. Junior James Behrend was eighth and senior Joey Rempe was ninth, sealing the dominant victory.
With the victories the NA boys team won the section with a perfect 7-0 record. The Lady Tigers were section runners-up with a 6-1 mark.