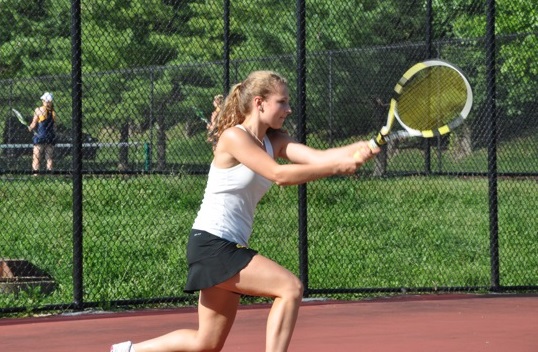 Tigers Cruise Past Penn-Trafford In WPIAL First Round
The reigning WPIAL and PIAA champion North Allegheny Tigers began their trek toward a repeat on Thursday afternoon with a 5-0 win over the Penn-Trafford Warriors in the opening round of the WPIAL playoffs. The top-seeded Tigers cruised past the Warriors in all phases. Anna Li and Tina Li earned 6-0, 6-0, victories over their respective opponents and Eugenia Lee rounded out singles play with a 6-0, 6-1, defeat of Elise Eisenstat at #3 singles.
In doubles play, Tristyn Maalouf and Catherine Liu claimed a 6-0, 6-1, win over Lauren McBarron and Shrega Sudadi. At #2 doubles, Sydney Boyd and Catherine Zhang made a clean sweep of Melissa Colbaugh and Nicole McClure.
North Allegheny improves to 17-0 overall and advances to play Oakland Catholic in the WPIAL quarterfinals on Monday afternoon. The match will be played at NASH at 3:00 pm. For a look at the entire Class AAA Girls' Tennis bracket, click here.
Match Summary

NORTH ALLEGHENY - 5
PENN-TRAFFORD - 0
SINGLES
#1
Anna Li (NA) def. Charlotte Vertes (PT)
6-0, 6-0
#2
Tina Li (NA) def. Rachel Ford (PT)
6-0, 6-0
#3
Eugenia Lee (NA) def. Elise Eisenstat (PT)
6-0, 6-1
DOUBLES
#1
Catherine Liu/Tristyn Maalouf (NA) def. Lauren McBarron/Shrega Sudadi (PT)
6-0, 6-1
#2
Sydney Boyd/Catherine Zhang (NA) def. Melissa Colbaugh/Nicole McClure (PT)
6-0, 6-0