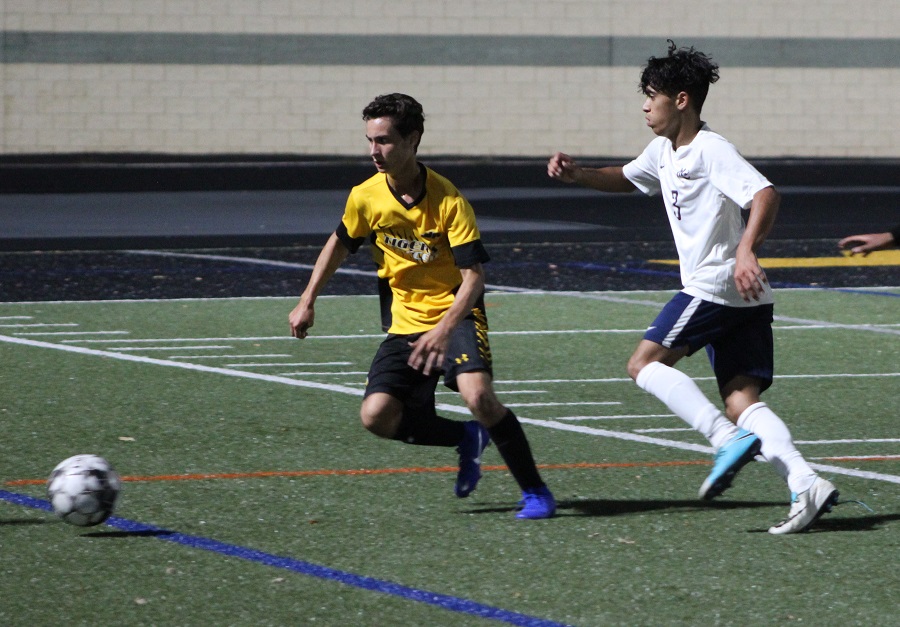 Tigers Cruise To Opening Night Win Over Hempfield
by Jonathan Spina
North Allegheny scored on their first shot on goal of the season and continued the trend all the way to a 17-0 victory, Monday night at North Allegheny Intermediate High School.
It only took a minute and a half to get the scoring started when Jonathan Swann chipped the ball over Hempfield keeper Owen Kelley to give the Tigers an early 1-0 lead. With 25 minutes remaining in the half Kensley Owens got a great pass from Swann and finished putting North Allegheny up 2-0. Owens scored again almost a minute later putting in a rebound off the post and the Tigers led 3-0. Swann got back into the action with eight minutes remaining in the half giving NA a 4-0 lead. With under two minutes to go in the half Evan Anderson put an Evan Cole pass into the back of the net putting himself on the board for the season and North Allegheny led 5-0 at halftime. The Tigers outshot Hempfield 12-0 in the first half.
The Tigers did not slow down in the second half getting another goal from Anderson, two goals from Brandon Marzula, Tyler Vargo, and Alok Shah each, goals from Maanas Belambe and Connor Kaczmarek and three goals from David Lessure.
Lessure was the Wright Automotive Player of the Game netting a hat trick in the second half.
Swann and Owens dominated the first half with their speed on the edges, scoring and setting up teammates all night.
North Allegheny improves to 1-0 overall. Hempfield falls to 0-1. The Tigers head on the road Wednesday night to take on the Butler Golden Tornado in the Section 1-4A opener.