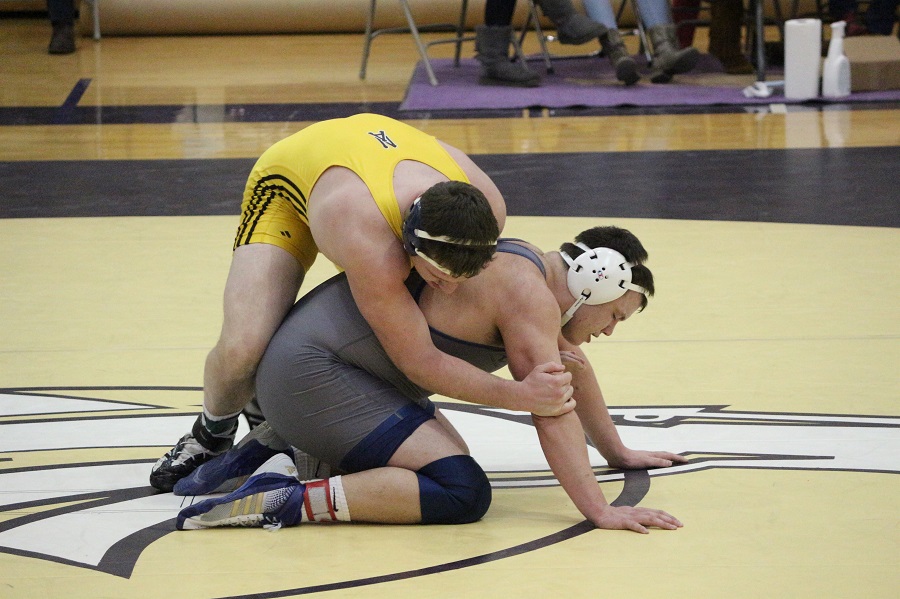 Tigers Cruise To Win Over Mars, 73-3
The grapplers coasted to a 73-3 victory over the Mars Planets on Wednesday night.  The Tigers collected seven falls and four wins by forfeit in an easy victory in Section 3A action.  The Tigers received falls from Gabe Falo (113), Zack Stedeford (120), Jake Hinkson (132), Sean Kalmeyer (145), Sean Hoover (152), Jeff Clemens (220), and Layne Skundrich (285).
North Allegheny improves to 3-0 in section action while Mars drops to 0-4.  The Tigers host Butler on Tuesday night at 7:00 pm in a match that was rescheduled from this week.
Wrestling Match Summary: NA vs. Mars
| Weight | Wrestlers | Score |
| --- | --- | --- |
| 106 | Alexander Hornfleck (M) dec. Jacob Downing (NA) | 4-2 |
| 113 | Gabe Falo (NA) pinned Pasquinelli Maxwell (M) | |
| 120 | Zack Stedeford (NA) pinned Joey Scanlon (M) | |
| 126 | Harley Hartle (NA) dec. Aidan Leshinsky (M) | 5-2 |
| 132 | Jake Hinkson (NA) pinned Robert Crawford (M) | |
| 138 | A.J. Boeh (NA) maj. dec. Silas Bender (M) | 19-6 |
| 145 | Sean Kalmeyer (NA) pinned Ryan Swann (M) | |
| 152 | Sean Hoover (NA) pinned Kevin Soergel (M) | |
| 160 | Jacob Woodley (NA) wbf | |
| 170 | Jacob Fritch (NA) wbf | |
| 182 | Clay Byerly (NA) wbf | |
| 195 | Zach Smith (NA) wbf | |
| 220 | Jeff Clemens (NA) pinned Trevor Heyl (M) | |
| 285 | Layne Skundrich (NA) pinned Anthony LaCava (M) | |