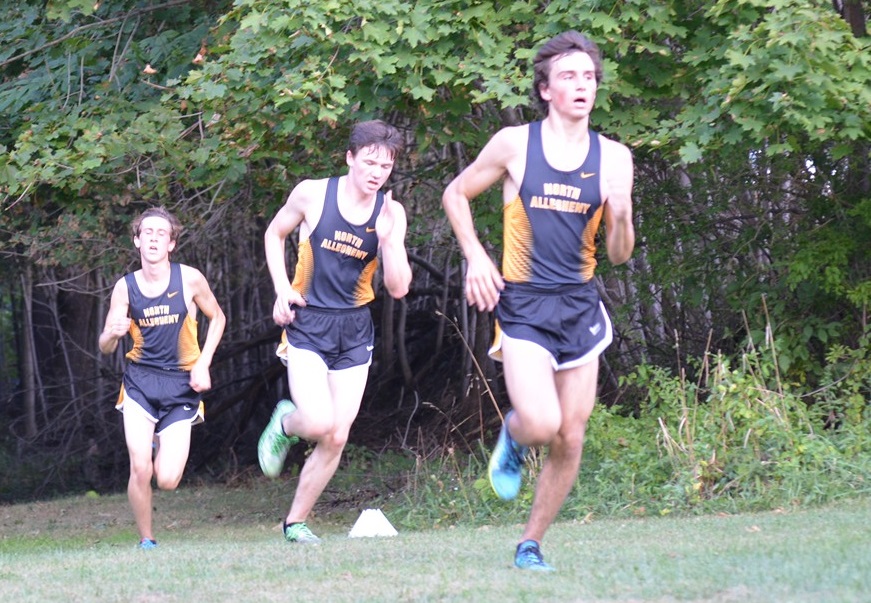 Tigers Debut New Home In Strong Fashion
The North Allegheny Cross Country teams held their first official dual meet of the season on Tuesday, September 7th.  It was the first ever meet held at the brand new North Park Course (the new NA home course due to NAI construction).  Temperatures were warm, but race times were even hotter.
The girl's team faced tough competition, the defending Class AA PIAA State Champs, Villa Maria Academy.  The Tigers ran well with many personal records being set, but it wasn't enough to beat the young ladies from Erie County.  The Tigers lost with score of 34-23.  Pacing the Tigers was Junior Tess Wright for the second race in a row.  She ran a season best time of 20:28.  First year NAXC runners, Ally Christy (junior), and Hannah Lindgren (freshman) had outstanding debuts.  Ally Meehan and Janet Wang also had great races and help score points for the Tigers.  The top 5 Tigers (scorers) were:
Tess Wright
Ally Meehan
Ally Christy
Hannah Lindgren
Janet Wang
The boy's team came away victorious with a perfect score (15-50) against Erie Cathedral Prep.  Tigers ran in a tight pack of 9-10 runners for the first half of the 3 mile course.  It was not until the 2 mile mark that junior, Cam Phillips, separated himself from the runner peloton.  His move strung out the Tiger pack as they competed against each other over the final mile.  Phillips set a course record for the brand new course with fast time of 16:16.  There was a photo finish to decide places 2-4.  Black 'N' Gold took the top 10 spots in impressive fashion.  Scoring for the Tigers were:
Cam Phillips
Clark Smith
Bobby Lutz
Jacob Greco
Zach Deible
Mark Hartigan
Dan McGoey
Both teams will head to Schenley Park for the annual Red, White, and Blue Invitational to face some of the toughest competition in the tri state area!  Good luck tigers!