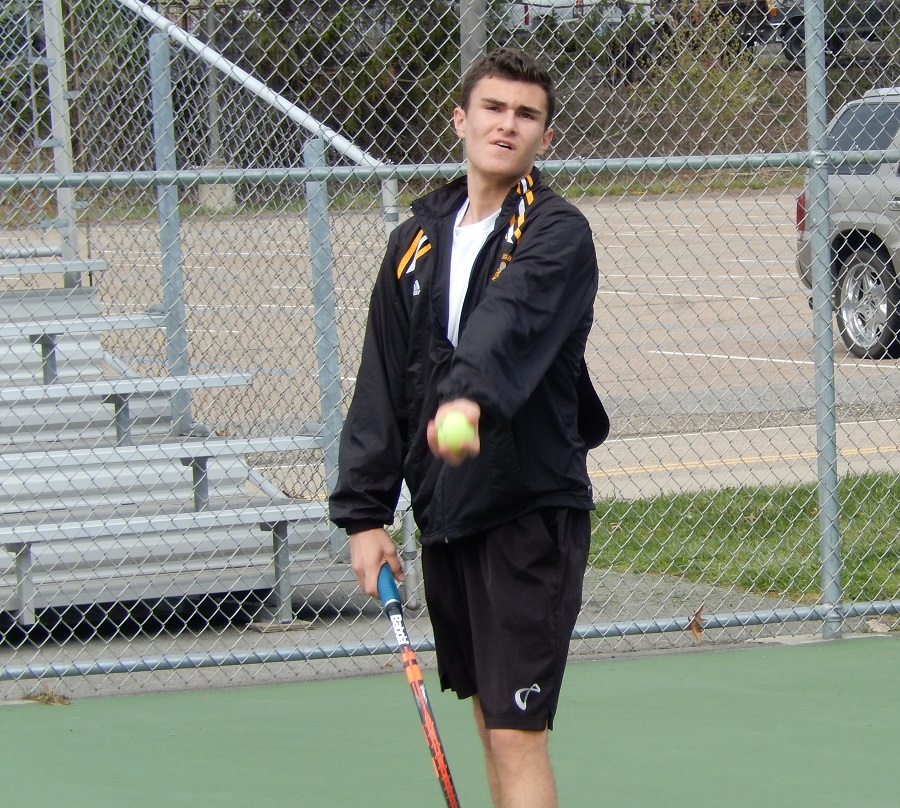 Tigers Defeat Butler in Section 2 Action
The Tigers traveled to Butler Thursday afternoon to resume Section 2 play against Butler. Coached by Dave Hartzell, the talented and young Golden Tornado were much improved and showed signs for a promising future.  Both teams played modified line-ups in preparation for next week's Section 2 Doubles Tournament, and the Tigers prevailed 5-0.
Freshman Jerry Huang made his singles debut at the #3 slot and won in straight sets for the first Tiger point.  Junior Anmol Anand and freshman Mark Chuirazzi teamed together for the first time and prevailed at number two doubles.  The clinching point was delivered courtesy of sophomore Andrew Chuirazzi at number two singles. Senior Jared Isaacs and sophomore Richard Hofmann paired up for the first time in team competition this season and controlled the number one doubles match. Rounding out play, sophomore Ivan Voinov took his contest at number one singles.
The Tigers improve to 9-2 on the season and 5-0 in Section 2 play.  Friday afternoon they welcome another section rival, the Mars Planets, to the NASH courts.  Match time is scheduled for 3:30 PM.
Match Summary 4/14/2016
North Allegheny—5   Butler—0
Singles
#1 Ivan Voinov (NA) def. Matt McMaster (B) 6-3, 6-0
#2 Andrew Chuirazzi (NA) def. Elijah Errington (B) 6-1, 6-1
#3 Jerry Huang (NA) def. Reed Kruger (B) 6-0, 6-1
Doubles
#1  Jared Isaacs/Richard Hofmann (NA) def. Devin Fitz/Cam Sedwick (B) 6-2, 6-0
#2  Mark Chuirazzi/Anmol Anand (NA) def. Nate Errington/Trevor Bell (B) 6-0, 6-0