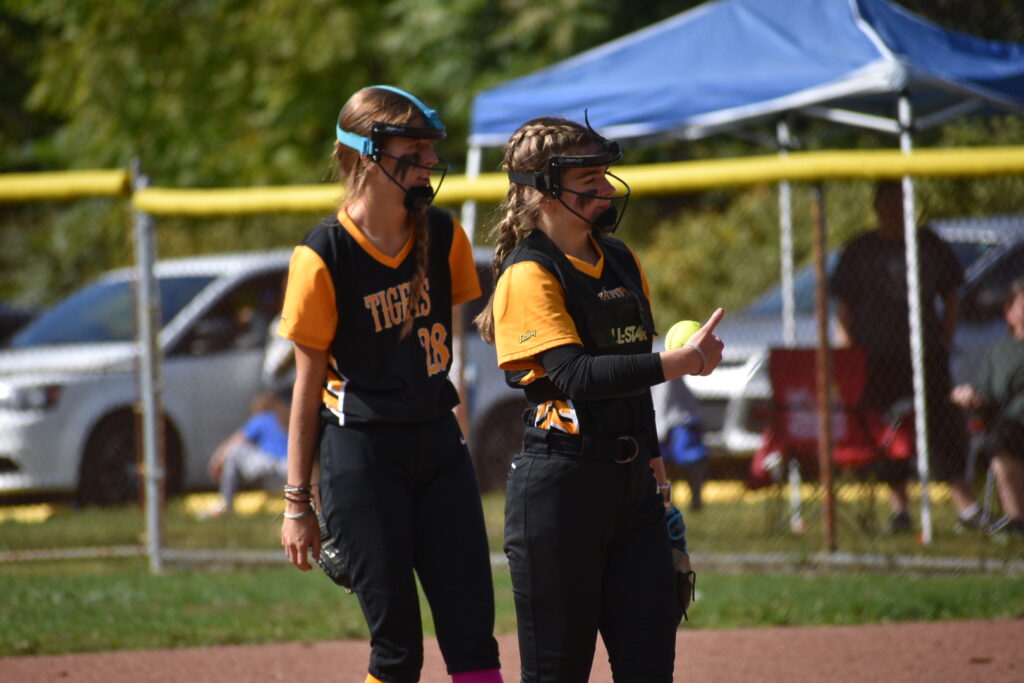 Tigers dominant against Ellwood City
The North Allegheny Tigers brought a bus-load of bats as they traveled to host Ellwood City and earned a convincing doubleheader sweep on a beautiful Sunday afternoon.
The Tigers came out swinging with runs scored in each of the five innings played, on their way to a 28-2  victory in Game 1.  The offense was powered by, over the fence home runs by Senior Nina Pietrzak, a 3-run shot, and Riley Yates with a towering grand slam to put this contest way out of reach.  Senior Captain Tye Ross led the hitting onslaught with five hits, followed by juniors Jayna Cole, Reilly Spitz, and Keala Glaser with four hits a piece.  Seniors Yates and Zoey Martin, along with sophomore Hannah Anderson, slugged three hits of their own to cap an explosive offensive performance.  The North Allegheny defense was headlined by the Tigers battery of pitcher Martin, who fired a couple strikeouts, and senior catcher Archie Treater who made a number of strong plays jumping out from behind the plate.
The Tigers continued their offensive dominance and solid play in the field to sweep the host team with a 14-2 win in Game 2.  Cole continued her hot streak and seven-hit afternoon, with three more hits to tie senior Helen Katyal for the team lead, followed by multiple hits from Yates, Glaser, and sophomores Riley Krieger and Emily Sobehart. Pietrzak hit her second over the fence home run and struck out two while on the mound, to ensure the victory.  The Tigers improved their overall record to 6-2 with another doubleheader at home next Sunday, versus Montour.