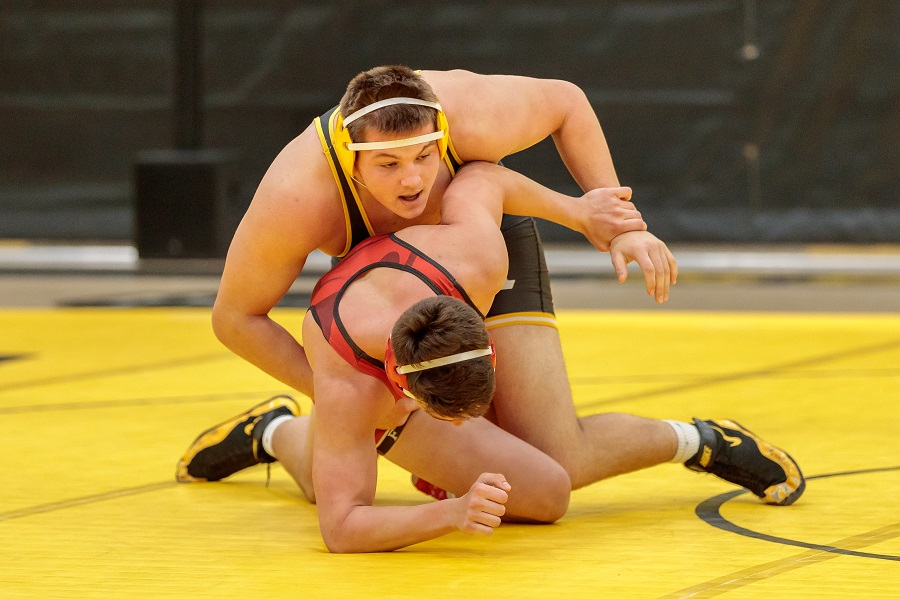 Tigers Dominate Fox Chapel For Section Win, 60-12
North Allegheny jumped to a 22-0 lead and cruised to a 60-12 section win over the Fox Chapel Foxes on Wednesday night. The Tigers used three wins by fall and four forfeits to claim a decisive win in Section 3B-AAA.
The night began at 152 pounds where senior Manuel Batista picked up an 8-4 decision over Alex Wecht for a quick 3-0 lead. After a forfeit at 160 pounds, senior Jacob Smalley earned a 13-3 major decision over Sean Mahon at 170 pounds to bring the team score to 13-0, North Allegheny.
Senior Pier Ferrara earned a win by fall over Jake Bozzo in just 44 seconds at 182 pounds and Jimmy Turici picked up a 6-3 decision over Eddie Farrell at 195 pounds for a 22-0 advantage.
Fox Chapel's Donovan Cutchember briefly broke the Tigers momentum with a win by fall at 220 pounds, but NA senior Derek Devine returned the favor by pinning Noah Turowski in 1:43 at 285 pounds. The victory by Devine gave the Tigers a 28-6 lead and earned him Wright Automotive Wrestler of the Match honors.
A win by forfeit for Fox Chapel's Max Lucco trimmed the NA lead to 28-12. Unfortunately for the Foxes, it was the their last win of the night. North Allegheny swept the remaining six bouts, including a tech fall by Max Stedeford at 113 pounds, a pin fall by Jacob Downing at 132 pounds and a 9-5 decision by Gabe Falo at 138 pounds.
North Allegheny improves to 2-0 in subsection 3B-AAA with the win, while Fox Chapel slips to 1-1. The Tigers return to section action on January 3 at Hampton.
Wrestling Match Summary: NA vs. Fox Chapel
| Weight | Wrestlers | Score |
| --- | --- | --- |
| 152 | Manuel Bautista (NA) dec. Alex Wecht (FC) | 8-4 |
| 160 | Jon Hoover (NA) wbf | |
| 170 | Jacob Smalley (NA) maj. dec. Sean Mahon (FC) | 13-3 |
| 182 | Pier Ferrara (NA) pinned Jake Bozzo (FC) | 0:44 |
| 195 | Jimmy Turici (NA) dec. Eddie Farrell (FC) | 6-3 |
| 220 | Donovan Cutchember (FC) pinned Norman Bernardi (NA) | 2:33 |
| 285 | Derek Devine (NA) pinned Noah Turowski (FC) | 1:43 |
| 106 | Max Lucco (FC) wbf | |
| 113 | Max Stedeford (NA) tech fall Jose Morales (FC) | 16-0 |
| 120 | Freddy Junko (NA) wbf | |
| 126 | Mohammaad Khatami (NA) wbf | |
| 132 | Jacob Downing (NA) pinned Max Lucey (FC) | 1:10 |
| 138 | Gabe Falo (NA) dec. Avery Bursick (FC) | 9-5 |
| 145 | Nick Marcenelle (NA) wbf | |