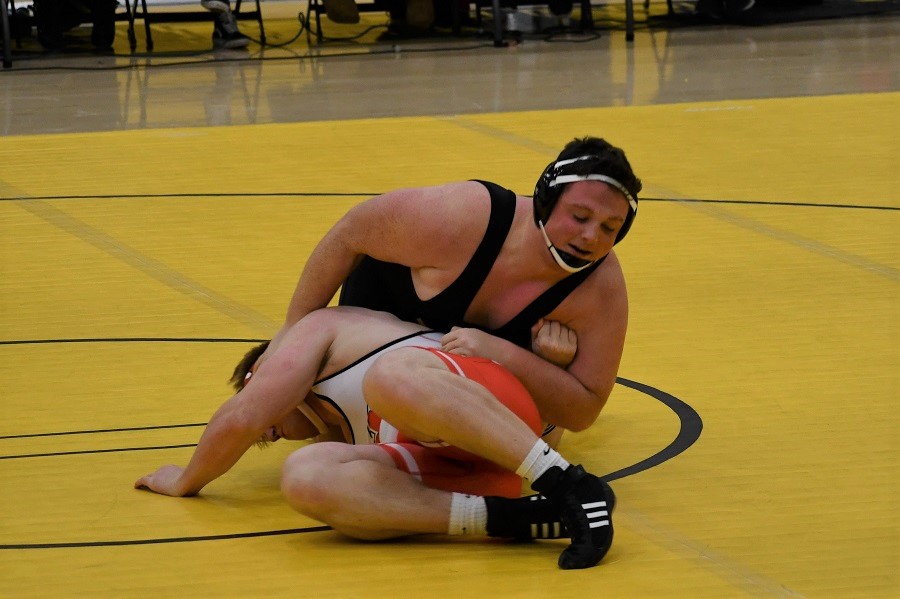 Tigers Dominate Foxes To Stay Unbeaten In Section
The North Allegheny wrestling team remained unbeaten in Section 3-AAA with a dominant 62-12 victory over the Fox Chapel Foxes on Wednesday night.
The Tigers used seven pin falls to win in a rout. The NA grapplers earning wins by fall included Max Stedeford (138), Freddy Junko (145), Nick Marcenelle (195), Ben Grafton (285), Sam Horton (106), Drew Duchi IV (113) and Dylan Coy (120).
At 152 pounds, Ian Branstetter won by tech fall over Josh Miller, 17-1. Picking up major decisions were Nathan Monteparte at 126 pounds and Grant MacKay at 160 pounds. MacKay defeated Alex Wecht by a 9-1 score to earn Wright Automotive Wrestler of the Match honors.
With the win, North Allegheny improves to 4-0 overall and in the section. Fox Chapel slips to 1-3 in the section. The Tigers will take part in Mid-Winter Mayhem at Indiana University of Pennsylvania this weekend.
Wrestling Match Summary: NA vs. Fox Chapel
| Weight | Wrestlers | Score |
| --- | --- | --- |
| 126 | Nathan Monteparte (NA) maj. decision Jose Morales (FC) | 15-4 |
| 132 | A.J. Rohan (NA) maj. dec. | 13-0 |
| 138 | Max Stedeford (NA) pinned Brendan Kost (FC) | 1:23 |
| 145 | Freddy Junko (NA) pinned Robbie Serrao (FC) | 1:16 |
| 152 | Ian Branstetter (NA) tech fall Josh Miller (FC) | 17-1, 4:39) |
| 160 | Grant MacKay (NA) maj. dec. Alex Wecht (FC) | 9-1 |
| 170 | Bobby Snyder (NA) dec. Trevor Katz (FC) | 5-0 |
| 182 | Luke O'Connor (FC) pinned Cameron Fries (NA) | 1:39 |
| 195 | Nick Marcenelle (NA) pinned Henry Gavazzi (FC) | 0:10 |
| 220 | Eddie Farrell (FC) pinned Luke Rumpler (NA) | 1:59 |
| 285 | Ben Grafton (NA) pinned Jordan White (FC) | 0:31 |
| 106 | Sam Horton (NA) punned Henry Byrne (FC) | 0:56 |
| 113 | Drew Duchi IV (NA) pinned Samuel Zuckerman (FC) | 3:56 |
| 120 | Dylan Coy (NA) pinned Ray Worsen (FC) | 2:51 |
| | Unsp Cond at 285 | -1 |