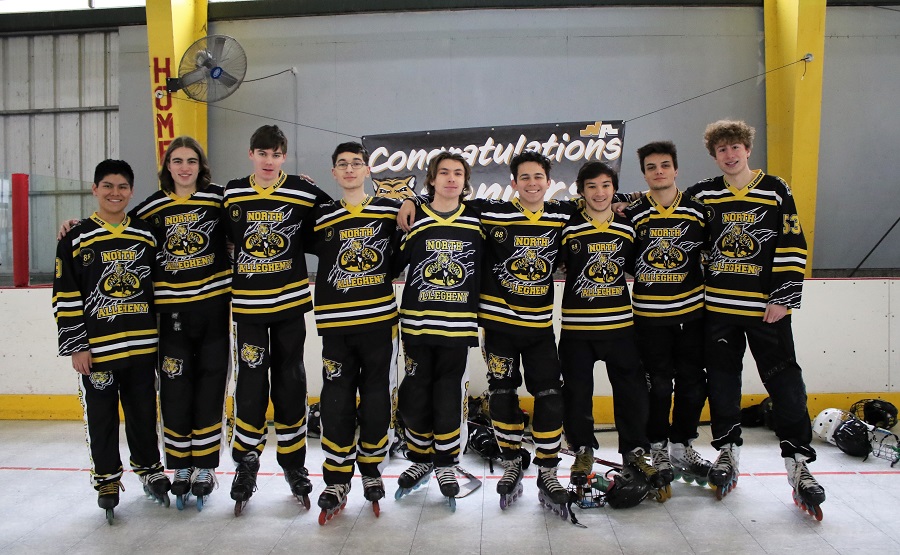 Tigers Edge Spartans For Senior Day Win, 2-1
The North Allegheny Tigers secured a 2-1 Senior Recognition Day victory over the Hempfield Spartans at the RMU Sports Complex.
In a hard fought, penalty ridden contest the Tigers were the first on the board with an unassisted goal from senior Isaac Dan.  The aggressive Tiger defense held the Spartans scoreless ending the first period with the Tigers leading 1-0.
Early in the second period, the Spartans took advantage of a Tiger penalty and scored on a power play goal to tie the game at 1-1.  Before the end of the period, Tigers junior Brett Baker put the puck in the back of the net, assisted by sophomore Aiden Anthony ending the period with the Tigers up 2-1.
The third period saw tenacious defense and multiple scoring opportunities for both sides.  With neither team able to score, the Tigers held on for the 2-1 victory.  Sophomore goalie Mitchell Ludwick earned the win and the Tigers improve to 14-1 on the season.
Congratulations and best of luck to the High School 2 and Varsity Seniors Alex Fester, CJ Painter, Nick O'Malley, Alex Lewis, Zach Webster, Manoli Pappas, Sam Arena, Isaac Dan and Robby Kushon.