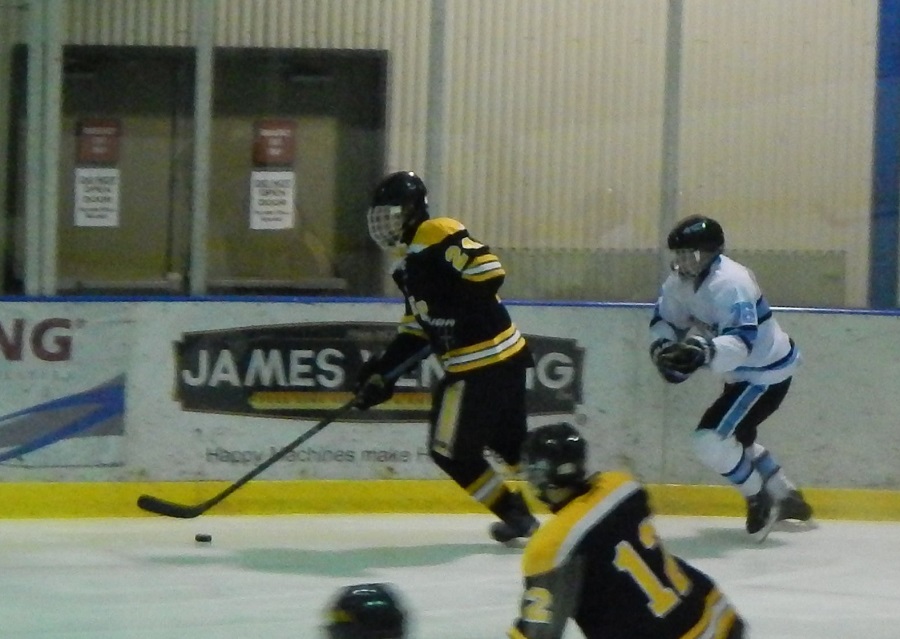 Tigers Erupt For Nine Goals Against State College
Senior Michael Kramer netted a hat trick and the North Allegheny ice hockey team shellacked the State College Little Lions on Thursday night, 9-5, at the Pegula Ice Arena. The Tigers opened up leads of 5-0 and 7-1 in an offensive outburst against the Little Lions.
In addition to Kramer's hat trick, Matthew Heil and Erik Chidester score two goals apiece.  Setting up a vast majority of those goals were Dawson Richard and Joseph Zappia III who tallied four and three assists, respectively.
State College received a three-point night from Andrew Skipper, including two goals.  The Lions did very little until the game was well out of reach. Douglas Wild got the start for the Tigers and stopped 24 of 29 shots for the win.
North Allegheny improves to 11-2-2 with the win while State College drops to 2-12-0.  The Tigers host the Upper St. Clair Panthers on Tuesday night at 7:30 pm.
Ice Hockey Summary vs. State College, 1-15-15
| GAME SUMMARY | | | | |
| --- | --- | --- | --- | --- |
| SCORE BY PERIODS | 1 | 2 | 3 | FINAL |
| North Allegheny | 3 | 4 | 2 | 9 |
| State College | 0 | 2 | 3 | 5 |
Ice Hockey Individual Scoring vs. State College
| INDIVIDUAL STATS | | |
| --- | --- | --- |
| FIRST PERIOD | | |
| North Allegheny | Matthew Heil (Daniel Bostedo, Dawson Richard) | 11:07 |
| North Allegheny | Michael Kramer (Paul Gonchar) | 13:54 |
| North Allegheny | Kramer (Eric Sprys) | 14:27 |
| SECOND PERIOD | | |
| North Allegheny | Erik Chidister (Joseph Zappia III) | 2:32 |
| North Allegheny | Nathan Taylor (Richard, Stephen Dietz) | 9:08 |
| State College | Petr Horgas (Josef Horgos) | 13:09 |
| North Allegheny | Heil (Bernardo Viera, Dietz) | 13:57 |
| North Allegheny | Kramer (Richard, Gonchar) | 14:26 |
| State College | Andrew Skipper | 16:49 |
| THIRD PERIOD | | |
| State College | Robert Jacobs (Mark Timmey, Tyler Broderick) | 2:34 |
| North Allegheny | Domonick Zangaro (Zappia, Chidester) | 14:34 |
| State College | Glenn Wild (Skipper) | 14:47 |
| North Allegheny | Chidester (Richard, Zappia III) - PP | 15:26 |
| State College | Skipper (Nicolas Fleming-Collado, Andrew Moscone) | 16:55 |