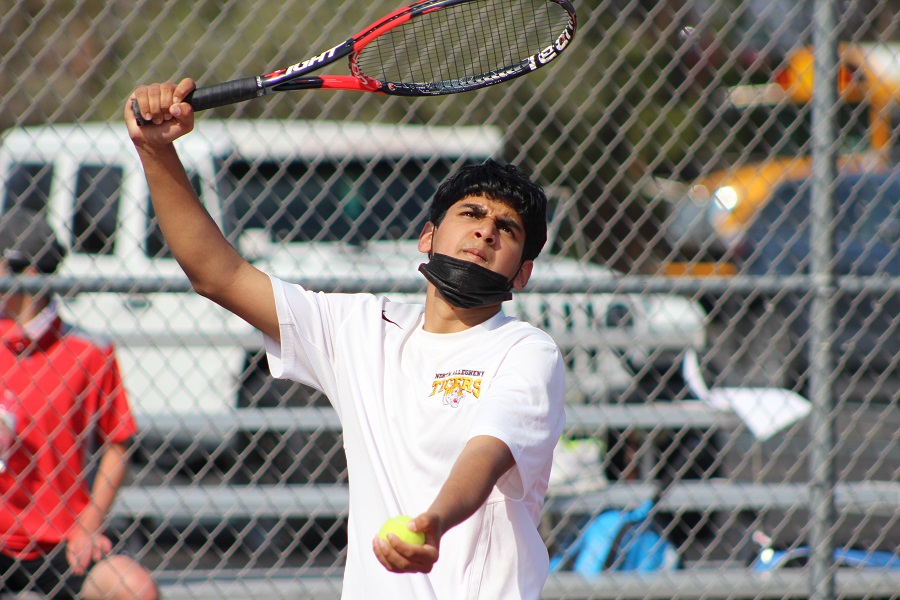 Tigers Exit WPIAL Playoffs With 3-2 Loss to Mt. Lebanon
The 4th seeded Tigers hosted the 5th seeded Mt. Lebanon Blue Devils Thursday afternoon on the NASH courts in the quarterfinal round of the WPIAL AAA Boys Tennis Championship.  A strong effort by the Tigers wasn't enough, and their 12 match winning streak and playoff hopes were dashed by a close 3-2 decision. Mt. Lebanon took the number one singles match along with both doubles contests, while the Tigers found the victory column at 2nd and 3rd singles.
Congratulations to the underclassmen who gave stellar performances all season;  Shomik Telang, Raj Ginde, Sri Bellamkonda, Milun Jain, Arnav Ranade, Dom Bellisario and Nakul Solai.  A special thank you and tribute to the seniors who provided leadership all season; Chase Davidson (USC), Krishna Naik (Pitt), and Greg Phillips (Worcester Polytechnic Institute).
With the loss, the Tigers completed their season with a 12-2 record, a Section 2 championship and a quarterfinal appearance in WPIAL team play.  They also had the Section 2 winners in both singles and doubles.  With team play ended, the Tigers will now be represented at the PIAA AAA Doubles Championship in Hershey by senior Chase Davidson and junior Shomik Telang during the Memorial Day weekend.  The North Allegheny Sports Network will provide scores and updates from Hershey.
Match Summary—WPIAL AAA Team Championship—Quarterfinal Round – 5/06/2021
Mt. Lebanon  3    North Allegheny  2
Singles
#1  Phil Gorun (Mt. L.) def. Chase Davidson (NA) 6-3, 6-2
#2  Shomik Telang (NA) def. Paul Gorun (Mt. L)) 6-2, 4-6, 6-0
#3  Raj Ginde (NA) def. Jonah Baram (Mt. L.) 6-2, 6-3
Doubles
#1 Jack Wilke/Luke Wilke (Mt. L) def. Srivatsa Bellamkonda/Krishna Naik (NA) 6-2, 6-0
#2 Nolan Magill/Cole Descalzi (Mt. L.) def. Greg Phillips/Milun Jain (NA) 6-2, 6-1