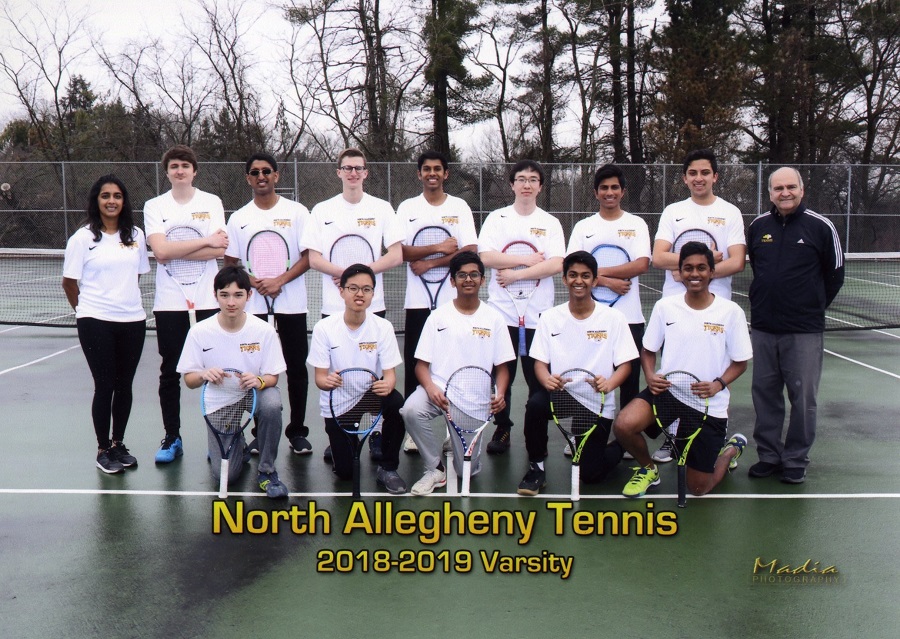 Tigers Fall 3-2 in WPIAL Quarterfinals
The quarterfinal round of the WPIAL AAA Boys Team Tournament took place Monday afternoon for the Tigers at the home of the Allderdice Dragons, in Schenley Park.  When the balls stopped bouncing, the third-seeded Dragons bested the sixth-seeded Tigers 3-2 in a contest that saw multiple tight matches.  The loss put a halt to the Tigers' surprising and successful 2019 season.
Number one and number three singles were taken by Allderdice over juniors Ven Naik and Ethan Vodovotz respectively.  The Tigers' scoring parade consisted of senior Rohan Cowlagi and freshman Atharva Sumant taking the number two doubles contest in straight sets.  Additionally, senior partners, Mark Chuirazzi and Jerry Huang outlasted Leo Sweeney and Benji Gluzman in a tense and exciting three set match at number one doubles. Each of the last two sets culminated in long tie breaks.   Senior Soureesh Moturi struggled out of the gates at number two singles before making a contest out of his match with Kazuma Parkinson.
The loss brings the Tigers' successful season record to a 14-2 overall mark, including 7-0 in Section 2 play, 6-1 in exhibition play and 1-1 in WPIAL Tournament action.  Congratulations to senior swingmen Mark Vlad and Manav Kathir for their first year of varsity action.  Congratulations to seniors Rohan Cowlagi and Soureesh Moturi for their three year varsity careers.  Finally, kudos to four-year starters, seniors Jerry Huang and captain Mark Chuirazzi for leading the way in outstanding doubles action.
Match Summary – 05/06/19
Allderdice–3  North Allegheny—2
Singles
#1   David Missry (A) def.Ven Naik (NA) 6-0, 6-1
#2   Kazuma Parkinson (A) def. Soureesh Moturi (NA) 6-1, 7-5
#3   Sammy Nayhouse (A) def. Ethan Vodovotz (NA) 6-1, 6-2
Doubles
#1   Mark Chuirazzi/Jerry Huang (NA) def. Leo Sweeney/Benji Gluzman (A) 7-5, 6-7 (10), 7-6 (4)
#2   Atharva Sumant/Rohan Cowlagi (NA) def. Omri Raz/Martin Staresinic (A) 6-3, 6-2