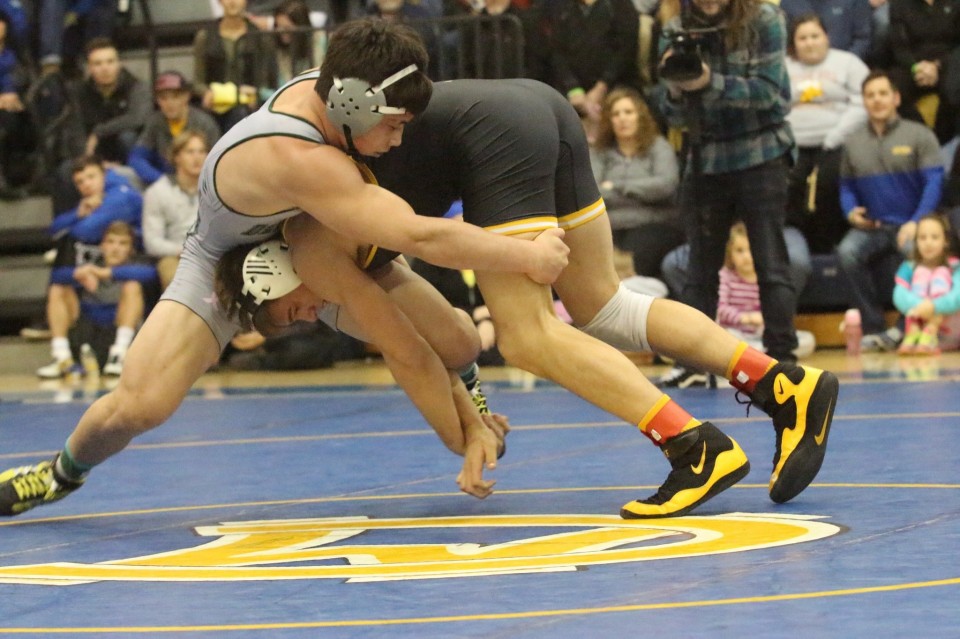 Tigers Fall Short To Belle Vernon In WPIAL Semifinals
After a pair of thrilling wins on Wednesday night to begin the WPIAL team tournament, the North Allegheny wrestling team couldn't find that same magic on Saturday afternoon as the Tigers dropped a 54-12 decision to eventual champion Belle Vernon in the semifinals. North Allegheny's hopes for a PIAA tournament berth were thwarted in the third-place consolations with a 43-21 setback to Kiski Area.
In the semifinals, the Tigers began the dual meet with a 9-0 lead thanks to a 7-5 decision by Jake Woodley (182) over Milton Kobaly and a win by fall courtesy of Francis Duggan (195) over Hunter Ferrara. Unfortunately, the Tigers would go on to win just one more bout in a 54-12 defeat to Belle Vernon.
Moving on to the third-place consolation, the Tigers still had a chance to reach the PIAA team tournament for the fifth consecutive season but Kiski Area dashed that hope by building a 35-3 lead en route to a 43-21 victory. Despite the loss, NA grapplers Jake Hinkson (138), A.J. Boeh (145), Sean Hoover (160) and Duggan (195) all picked wins by decision against Kiski. Woodley picked up a win by forfeit at 182 pounds.
North Allegheny concludes the team portion of the season with an 8-8 overall record. The NA wrestlers will take the mat again for the Section 3-AAA individual wrestling tournament on Saturday, February 27.
Wrestling Match Summary: NA vs. Belle Vernon
WPIAL Class AAA Semifinals
| Weight | Wrestlers | Score |
| --- | --- | --- |
| 182 | Jake Woodley (NA) dec. Milton Kobaly (BV) | 7-5 |
| 195 | Francis Duggan (NA) pinned Hunter Ferrara (BV) | 3:05 |
| 220 | Michael Fine (BV) pinned Derek Devine (NA) | 2:00 |
| 285 | William Korber (BV) maj. dec. Chuck Sanders (NA) | 16-4 |
| 106 | Jacob Dunlop (BV) dec. Jacob Downing (NA) | 7-0 |
| 113 | Logan Seliga (BV) pinned Mohammaad Khatami (NA) | 0:49 |
| 120 | Jake Fine (BV) pinned Nick Pepe (NA) | 4:14 |
| 126 | Tyler Seliga (BV) pinned Jiatian Qu (NA) | 0:10 |
| 132 | Zachary Hartman (BV) maj. dec. Zach Stedeford (NA) | 10-0 |
| 138 | Jake Hinkson (NA) dec. Brock Godzin (BV) | 4-2 |
| 145 | Jarod Verkleeran (BV) pinned A.J. Boeh (NA) | 1:33 |
| 152 | Derek Verkleeran (BV) pinned Jacob Smalley (NA) | 0:46 |
| 160 | Mitchell Hartman (BV) dec. Sean Hoover (NA) | 1-0 |
| 170 | Austin Bell (BV) dec. Jacob Fritch (NA) | 15-6 |
***********
Wrestling Match Summary: NA vs. Kiski Area
WPIAL Class AAA Consolations
| Weight | Wrestlers | Score |
| --- | --- | --- |
| 195 | Francis Duggan (NA) dec. Alex Delp (KA) | 12-7 |
| 220 | Chad Kuhn (KA) pinned Derek Devine (NA) | 2:30 |
| 285 | Isaac Reid (KA) pinned Chuck Sanders (NA) | 0:38 |
| 106 | Darren Miller (KA) dec. Jacob Downing (NA) | 3-2 |
| 113 | Cam Conner (KA) tech fall Mohammaad Khatami (NA) | 17-0 |
| 120 | Noah Levett (KA) pinned Nick Pepe (NA) | 1:31 |
| 126 | Matt Siszka (KA) pinned Jiatian Qu (NA) | 1:07 |
| 132 | Joe Blumer (KA) dec. Zach Stedeford (NA) | 4-0 |
| 138 | Jake Hinkson (NA) pinned Collin Murray (KA) | 1:52 |
| 145 | A.J. Boeh (NA) dec. Anthony D'Incau (KA) | 2-0 |
| 152 | Logan Pollick (KA) tech fall Jacob Smalley (NA) | 17-0 |
| 160 | Sean Hoover (NA) dec. Tom Starr (KA) | 5-0 |
| 170 | Vinny Romano (KA) dec. Jacob Fritch (NA) | 6-0 |
| 182 | Jake Woodley (NA) wbf | |