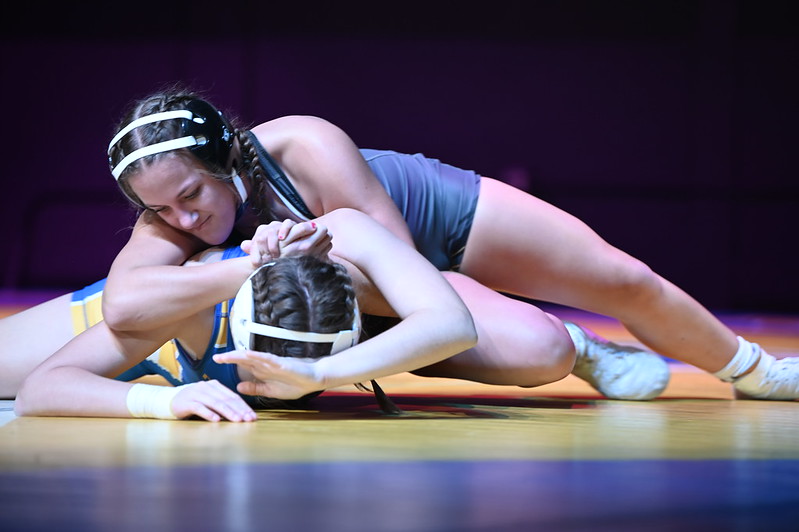 Tigers Fall To Big Macs In Dual Meet
The North Allegheny girls' wrestling team took part in its first regular season dual meet of the 2022-2023 season and dropped a 45-29 decision at Canon-McMillan on Wednesday night. Despite the defeat, there were some impressive performances from the Lady Tigers.
NA finished strong by taking three of the final four bouts of the night. Earning a win by fall at 235 pounds was freshman Amya Sanford, who took down Kelly Taylor in 1:42. Freshman Sophia Folks picked up a 3-0 decision over Leilani Ramos at 130 pounds and sophomore Brenna Collery capped the night with a pinfall against Bella Arnold at 136 pounds.
Prior to NA's grand finale, Folks earned a 9-0 major decision over Ezmerelda Schaub in the second bout of the night at 130 pounds. At 142 pounds, Audrey Morrison quickly pinned Evangeline Gray in 53 seconds. Junior Leyna Rumpler earned a 10-0 major decision against Grace O'Korn at 155 pounds.
The North Allegheny girls' wrestling team returns to the mat on Saturday at the Mid-Winter Mayhem tournament in Indiana, PA.
Girls Wrestling Match Summary: NA vs. Canon-McMillan
| Weight | Wrestlers | Score |
| --- | --- | --- |
| 118 | Madi Mansmann (CM) pinned Isabella Cuomo (NA) | 1:37 |
| 130 | Sophia Folks (NA) maj. dec. Ezmerelda Schaub (CM) | 9-0 |
| 136 | Hope Carmona (CM) pinned Brenna Collery (NA) | 2:33 |
| 136 | Amillyonne Williams (CM) pinned Ava Anthony (NA) | 0:54 |
| 142 | Chloe Ault (CM) dec. Callie Rautenbach (NA) | 3-0 |
| 142 | Audrey Morrison (NA) pinned Evangeline Gray (CM) | 0:53 |
| 148 | Dynisty Williams (CM) pinned Maya Scott (NA) | 4:10 |
| 148 | Alaya Henderson (CM) pinned Ava Frailey (NA) | 2:31 |
| 155 | Leyna Rumpler (NA) maj. dec. Grace O'Korn (CM) | 10-0 |
| 190 | Natalie Rush (CM) pinned Kaylee Dean (NA) | 4:06 |
| 235 | Amya Sanford (NA) pinned Kelly Taylor (CM) | 1:42 |
| 118 | Elizabeth Elliot (CM) pinned Isabella Cuomo (NA) | 1:19 |
| 130 | Sophia Folks (NA) dec. Leilani Ramos (CM) | 3-0 |
| 136 | Brenna Collery (NA) pinned Bella Arnold (CM) | 3:53 |