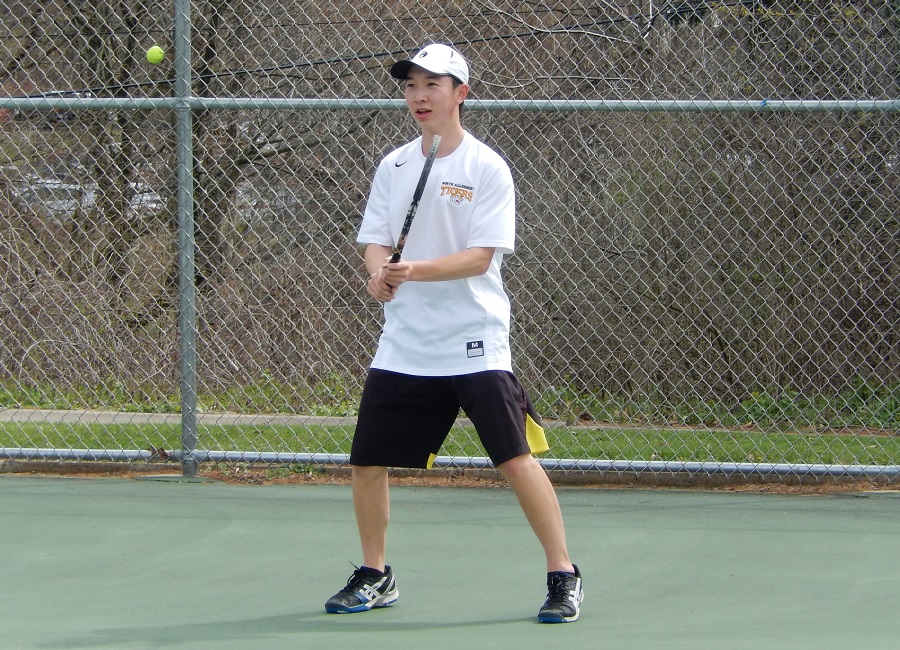 Tigers Fall to Fox Chapel, 3-2, in WPIAL Finals
Playing at the Glen Creek Tennis Club Friday afternoon, the second seeded Tigers dueled with Fox Chapel for the WPIAL Championship but could not upset the top ranked Foxes, falling 3-2. The Tigers competed well and pushed the Foxes but could not find the consistency needed to gain the win.
Senior Jared Isaacs and sophomore Richard Hofmann held their own at one and two singles respectively while Andrew Chuirazzi and Ethan Schenk played solidly at one doubles.  Sophomore Ivan Voinov played his strongest match of the year, dueling Neil Bencherif of the Foxes.  Falling behind after the first set, Voinov rebounded with a spectacular 6-1 win in the second.  The third set saw many lead changes but Voinov stepped up with a variety of deft shots to take the third singles slot, 7-5, in a 2 ½ hour contest.  Not to be outdone, the freshman duo of Mark Chuirazzi and Jerry Huang played a 2 hour and 50 minute classic at number two doubles.   Not able to capitalize on a set point, they lost the first in a tie-break.  They then found a path to a 6-3 win in the second.  Falling behind 0-3 in the third, they chipped back and actually had a match point before settling for another tie break which they dominated, beating Kurran Singh and Jay Kashyap.
With WPIAL play completed, the 17-2 Tigers now set their sights on the PIAA State Tournament which begins first round play on Tuesday, May 17.  North Allegheny will play Brashear High School, winner of PIAA District VIII, at The Club in Monroeville at 2 PM.
Match Summary—WPIAL Final (5/13/16)
Fox Chapel—3   North Allegheny—2
Singles
#1  Robby Shymansky (FC) def. Jared Isaacs (NA) 7-5, 6-1
#2  Sidd Rajupet (FC) def. Richard Hofmann (NA) 7-5, 6-2
#3  Ivan Voinov (NA) def. Neil Bancheiref 3-6, 6-1, 7-5
Doubles
#1  Jared Nord/Tomi Fennell (FC) def. David Chuirazzi/Ethan Schenk (NA) 6-2, 6-1
#2 Mark Chuirazzi/Jerry Huang (NA) def. Kurran Singh/Jay Kashyap (FC) 6-7 (3), 6-1, 7-6 (1)