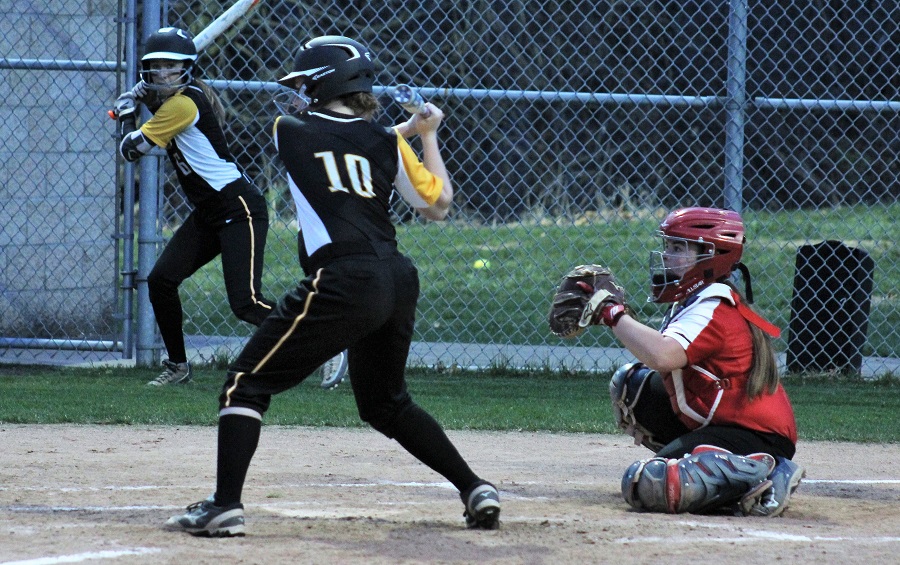 Tigers Fall to Indians
On Thursday evening at NASH Field, it was all North Hills as the Indians defeated the North Allegheny Tigers 11-4 behind the pitching of Megan Hitchen and solid team defense coupled with timely hitting. After a scoreless first inning, North Hills took a 1-0 lead in the second and increased the margin to 3-0 in the third. The Tigers pulled to within one run at 3-2 in the third, but could get no closer as North Hills expanded their lead to arrive at the final 11-4 score.
North Hills stroked twelve hits off Tiger pitchers, with starter Brooke Serbin taking the loss. The long ball aided North Hills as Madison Bisterio and Melanie Saban each hit a home run. The North Allegheny defense started spring break early, as the Tigers committed eight errors (nearly doubling their total in the previous five games combined) which, when coupled with the dozen hits,  quickly put the game out of reach.
For North Hills, the win was an historical one of sorts. The result snapped a 16-game losing streak to the Tigers and was the Indians first win at NA since 2002.
The loss drops North Allegheny into a first place tie with Seneca Valley at the midpoint of Section 3-AAAAAA play with identical records of 4-1 (4-2 overall), while North Hills climbed back into the race with a 2-3 mark. The Tigers are next scheduled to play a home non-section contest against the Penn-Trafford Warriors on Saturday afternoon at NASH Filed, with a first pitch scheduled for 2:00 PM.
Softball vs. North Hills, 4-13-17
| Score by Innings | 1 | 2 | 3 | 4 | 5 | 6 | 7 | | R | H | E |
| --- | --- | --- | --- | --- | --- | --- | --- | --- | --- | --- | --- |
| North Hills | 0 | 1 | 2 | 0 | 2 | 5 | 0 | | 11 | 12 | 1 |
| North Allegheny | 0 | 0 | 0 | 2 | 0 | 2 | 0 | | 4 | 5 | 8 |
WP - Megan Hitchen LP - Brooke Serbin (4-2)