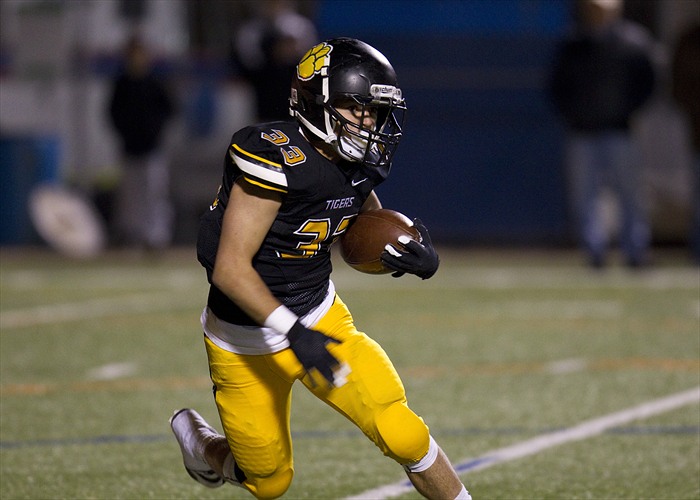 Tigers Fall to Vikings
by Lee Mohn
From beginning to end the night belonged to the Central Catholic Vikings.  The North Allegheny Tigers were defeated Friday night 55-14.
Central Catholic started off quick scoring just 1:35 in when Troy Fisher connected on a 64 yard pass to Justice Evans to give the Vikings a 7-0 lead.  The teams would exchange possessions but the ensuing punt the Tigers fumbled away.  Central capitalized when Troy Fisher would score from two yards out to lead 14-0. The Vikings scored the next four touchdowns getting two touchdown runs from J. J. Younger a 89 yard punt return from Cam Laconi and a 24 yard interception return from Tim Terry to lead 42-0.  North Allegheny finally scored with 1:30 left in the half when Mike Pope broke loose for a 60 yard score to make it 42-7 at the half.
The mercy rule was in effect for the second half but the Tigers came out and marched right down the field on a nine play sixty yard drive capped by a Turner White seven yard run.  North Allegheny could not keep the momentum going and Central added two more scores.  North Allegheny got a solid performance from Nico Mermigas and a solid punting performance from Luke Trueman.
The Wright Automotive player of the Game was handed out to Mike Pope who carried the ball 12 times for 126 yards and a touchdown.  North Allegheny falls to 1-2 over all and will travel to Shaler next week.