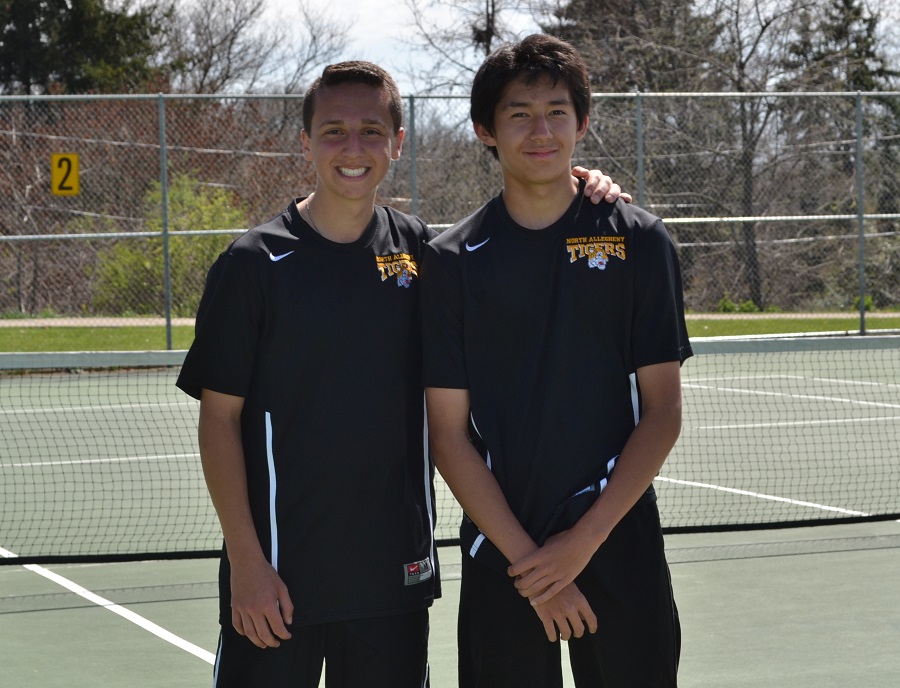 Tigers Finish Regular Season With Exciting Win Over USC
In the last regular season match of the year, the Tigers hosted rival Upper St. Clair in an exhibition match that had implications for a high seed in the WPIAL playoffs. With a playoff atmosphere already surrounding the courts, the Tigers pulled off a thrilling, come-from-behind 3-2 win over their Section 4 rivals.  After seeing Upper St. Clair take a 2-0 in the match through wins at three singles and one doubles, the Tigers methodically roared back.  Senior Jared Isaacs started the rally by defeating Kevin Kwok at number one singles in straight sets.  The second Tiger point came from second doubles where freshmen Mark Chuirazzi and Jerry Huang prevailed, also in straight sets.  With the match evened at two points, sophomore Richard Hofmann and USC's Scott Russell split the first two sets.  The third set in "center court" being watched eagerly by both teams, saw Hofmann pull ahead early with several service breaks to win the individual match and contest for the Tigers.
With the win the Tigers improve to 14-1 on the season and await the draw for the WPIAL Team Championships, slated to start Wednesday afternoon. The draw will be release Tuesday and can be found at www.wpial.org.
Match Summary (5/02/16)
NORTH ALLEGHENY—3 Upper St. Clair 2
Singles
#1 Jared Isaacs (NA) def. Kevin Kwok (USC) 6-2, 6-1
#2  Richard Hofmann (NA)  def. Scott Russell (USC) 6-3, 4-6, 6-1
#3 Liam Gibbons (USC) def. Ivan Voinov (NA) 6-3, 6-0
Doubles
#1 Josh Meyer/Prahmud Nyfynm (USC) def. Andrew Chuirazzi/Apoorv Anand (NA) 6-1, 6-4
#2 Mark Chuirazzi/Jerry Huang (NA) def. Anthony Abinanti/Michael Colane (USC) 6-4, 6-2