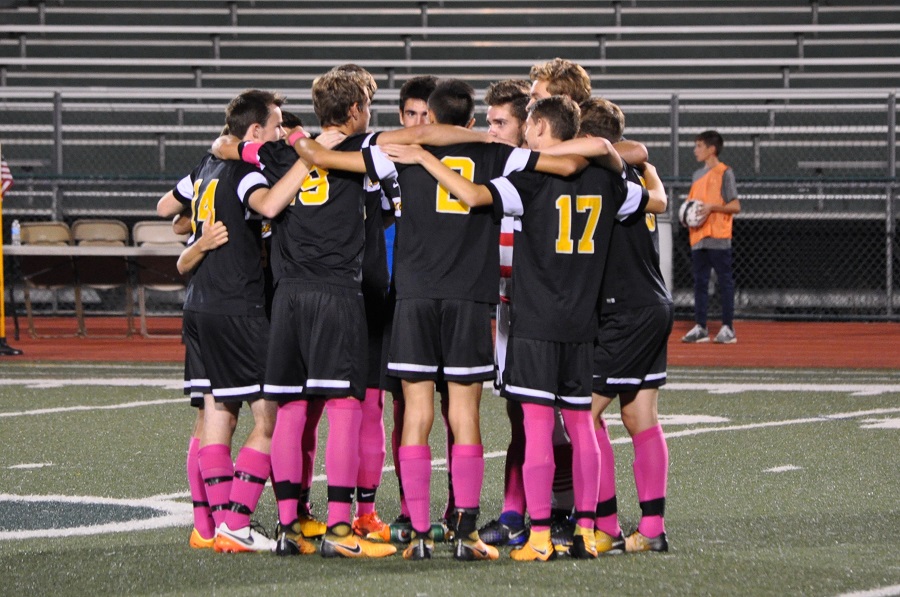 Tigers Finish Section Play Undefeated, Beat North Hills 3-1
by Boys Soccer Contributor
Teams on opposite ends of the section met on Tuesday night and winless North Hills proved to be a formidable opponent for the first-place Tigers despite their record.  While the Indians played improved soccer, it wasn't enough as North Allegheny claimed a 3-1 victory to finish section play unbeaten.
The Indians had the Tigers offense confused much of the night even though North Allegheny had five shots on goal during the half along with eight corners, compared to zero shots and zero  corners for North Hills. Josh Luchini (2) and Zach Marzula had good shots thwarted away by the Indians goalie, along with Nick Williams and Cam Yurick.
In the second half, coach Bobby Vosmaer started Isaac Ciocca and Brennan Donovan which added some aggressiveness to the game, and at 31:59, Ryan Earle scored off a Sean Atwater pass off a free kick to take a 1-0 lead.  That lead was short-lived as the Tigers were called for a handball in the box and North Hills made the penalty kick, tying the game 1-1.  At 21:00, the Tigers were awarded a free kick and Atwater found Luke Stephen in front who headed the pass into the Indians net for a 2-1 lead.  Marzula, at 13:27, completed the scoring off a corner feed from Luchini for a 3-1 final.
North Allegheny concludes section play with a 9-0-1 record and 13-2-1 mark overall. Senior night will be celebrated before the Tigers upcoming game versus Thomas Jefferson this Saturday at 4:00 p.m.