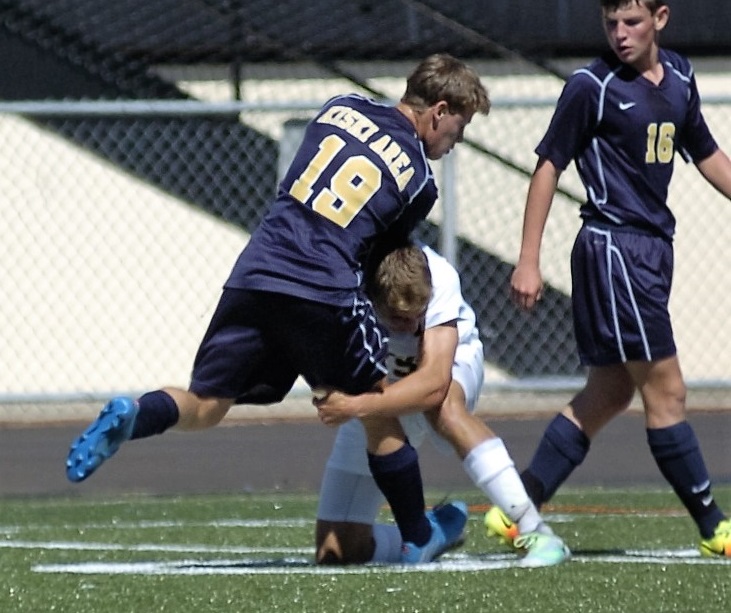 Tigers Gain Revenge Against Kiski
By Boys' Soccer Contributor
This game couldn't have come soon enough for the Tigers as last year's season was ended by Kiski in the first round of the WPIAL playoffs. In the 2016 season opener, North Allegheny earned a measure of revenge with a 4-1 triumph over the Cavaliers.
Senior Jack Passodelis had two shots go wide in the first two opening minutes while senior, James Nolan at 36:15 had the first shot on goal for the season while continuing the early pressure.  At 34:46 Josh Luchini scored from 20 yards out on perfectly placed thru ball from junior mid-fielder Sean Atwater and North Allegheny took the early lead 1-0.  Four minutes later  at 30:33 on a cross from senior Owen Leonard, Nolan in front glanced a header into the back of the net increasing the lead to 2-0. At 24:27 Kiski had a shot directed off a Tiger defender and over junior goalie Grant Glorioso to make it a 2-1 contest.  On a well-played tic-tac –toe play between Leonard, Nolan and then Luchini whose shot eluded the Kiski keeper to give the Tigers a 3-1 lead at 18:43. Coach Bobby Vosmaer was then able to bring in Alex Goto, Sam Burge, Josh Rouser, Justin Scheidler, Cam Yurick  and Nathan Muckle  who all aided in keeping the pressure on the Cavaliers and keeping the score at 3-1 half.  The Tigers finished with only 5 shots on goals, but created many offensive opportunities to Kiski's two shots on frame.
The second half continued  with early pressure and shots on goal by Passodelis and Nolan along with a shot by Luchini in close that soared over the goal on a cross from senior Roman Rainville. The defensive back four of juniors Nick Williams, Christian Giannetti, Sam Neal and senior Mike Morrissey kept the Cavaliers away from the NA net with only one shot on goal in the half.  The Tigers continued to create many scoring opportunities on crosses, but their shots continued to miss the frame.  At 8:35 off some nice hustle from junior Zach Marzula a Tiger corner was awarded and perfectly taken and placed by senior Ben Cinker who found Rouser in front of the Kiski net who tapped it home giving the NA squad a 4-1 lead and victory.
Next up for the  1-0 Tigers are the always talented  Norwin Knights away in a 7:30 p.m. varsity contest next Tuesday.