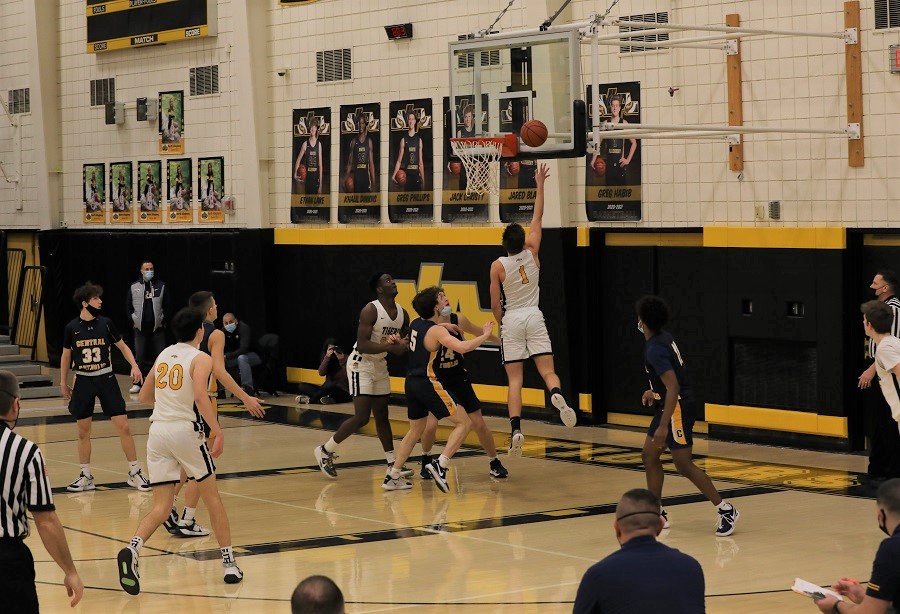 Tigers Grind Out Win Over Vikings In WPIAL 1st Round, 45-41
The North Allegheny boys' basketball team earned its first postseason win in six years with a 45-41 victory over the Central Catholic Vikings in the opening round of the WPIAL Class 6A playoffs on Tuesday night.
In a contrast of styles, the fast-paced Tigers faced off against the more methodical Vikings, who boasted the best scoring defense in Class 6A allowing a paltry 47 points per game. While the tempo was more to the liking of Central Catholic, it was North Allegheny that built an 18-12 lead by the early stages of the second quarter. Balanced scoring helped NA construct the six-point advantage with seven different players scoring points in the half. Senior forward Khalil Dinkins led NA in the first 16 minutes with five points, finishing with nine on the night.
NA's six-point lead would be its largest of the game, however, and Central Catholic answered back with 12-6 run to tie the game at halftime, 24-24. Senior Anderson Cynkar netted seven of his team-high 13 points in the first half and produced plenty of second-chance scoring opportunities with 13 rebounds, seven on the offensive glass.
To open the third quarter, Central Catholic poured in back-to-back 3-pointers courtesy of Randall Wilkerson and Dante Depante for a 30-24 lead. Like the Tigers, the Vikings six-point lead was their largest of the contest.
Following the Depante 3-pointer, North Allegheny was able to force the tempo to a quicker pace and it sparked a 12-2 run to end the third quarter, giving the Tigers a 36-32 lead. Junior guard Matt McDonough and senior forward Ethan Lake both connected on 3-pointers during the run.
Late in the fourth quarter, the Tigers stretched the lead out to five points following a pair of free throws from senior Greg Habib, bringing the score to 42-37 with 1:21 remaining. Central Catholic answered with two free throws and a layup by Cynkar, cutting the Tigers lead to 42-41 with 17 seconds remaining.
A quick foul by Central Catholic sent Habib back to the charity stripe and he converted both free throws for a 44-41 lead. The Vikings last-gasp effort to tie the score sailed off target on a missed 3-pointer by Wilkerson, and a subsequent free-throw by junior Erik Sundgren with 2.7 seconds left to play sealed the deal for North Allegheny and a 45-41 victory.
Habib led the Tigers with 12 points and converted on 6-of-8 shots from the free-throw line down the stretch, earning Wright Automotive Player of the Game honors.
With the win, seventh-seeded North Allegheny improves to 16-6 on the season and advances to face second-seeded Fox Chapel on Friday night. Central Catholic's season comes to an end with a 12-10 record.
Boys Basketball vs. Central Catholic, 3-2-21
| GAME SUMMARY | | | | | |
| --- | --- | --- | --- | --- | --- |
| SCORE BY QUARTERS | 1 | 2 | 3 | 4 | FINAL |
| Central Catholic | 7 | 17 | 8 | 9 | 41 |
| North Allegheny | 11 | 13 | 12 | 9 | 45 |