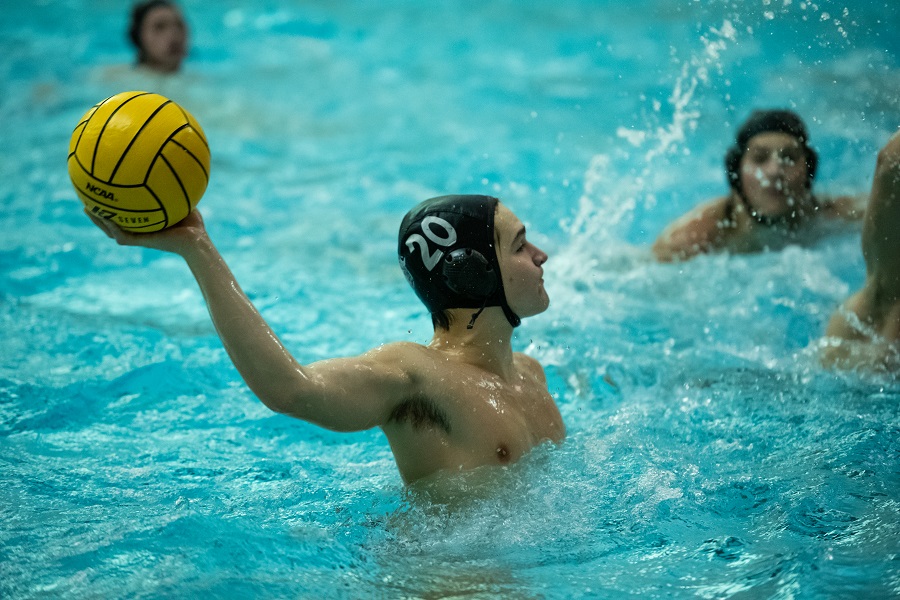 Tigers Impress At Beast Of The East Tournament
The North Allegheny water polo team traveled east this weekend for the annual Beast of the East Tournament with the NA Boys and Girls teams each coming away with a 3-1 finish. Out of the 32 boys and girls teams that competed at the Beast of the East, both NA teams finished in the top six. The two-day tournament was held at Central York High School on Friday and Wilson High School on Saturday.
The NA Boys splashed their way to an easy victory in the opener on Friday night with a 29-8 triumph over Upper Perkiomen. Eleven different Tigers scored goals in the victory, led by junior Sean McClellan and sophomore Camden Wright, who scored six and five goals, respectively. Junior Nico Jacobs-Alarcon posted four goals, while Keller Sens, Asher Jones and Anthony Hollo each notched a hat trick. Also touching the scoresheet with one goal apiece were Jonathan Mowry, Yi-Fei Zhao, Caden Currykosky, Sreeker Kakumani and Anthony Spino. Goalies Eliot Maravich and Ben Pizov split time in net, combining for 11 saves. Pizov made seven stops in the fourth quarter.
Friday's night cap resulted in another landslide victory as the Tigers ran roughshod over Calvert Hall, 19-1. McClellan provided an outstanding all-around effort, with five goals and a team-leading six assists and four steals. His five goals were tied for the team lead with Jones, who also tallied five. Wright checked in with four goals, while Sens, Jacobs-Alarcon, Justin Morrison, Ethan Berty and Ben Gavran all scored one goal each. Maravich provided 11 saves in net.
Saturday began with an afternoon affair with North Penn. Hoping to atone for their only loss of the season sustained last week, the Tigers fought hard and were tied 5-5 at the half, but North Penn once again narrowly prevailed, 9-8. McClellan and Gavran each posted a hat trick and Sens added two goals. Maravich corralled five saves.
The NA Boys bounced back in the finale with a 13-11 win over Haverford. Involved in another tightly contested affair, the game was tied 9-9 after three quarters before NA outscored Haverford, 4-2, in the final stanza. McClellan led the way with five goals, five assists and three steals. Sens and Jones each tallied a hat trick, while Berty and Gavran chipped in with single goals as well. Maravich reeled in eight saves to earn the victory.
The Lady Tigers also put their prolific offense on display at the Beast of the East Tournament, beginning with an 18-6 triumph over Upper Perkiomen on Friday evening. Junior Rebecca Melanson dazzled in the opener with a team-leading five goals, five assists and two steals. Senior captains Anna Kegel and Emma Donnelly tickled the back of the net often with four and three goals, respectively. Scoring one goal apiece were Sharon Li, Ashley Sturtz, Jamie Palone, Elizabeth Vales, Mikayla Tieppo and Kaylee Dean in the rout of Upper Perkiomen. Sophomore goalie Izzie Trunzo notched 10 saves for the win.
In game two, the NA Girls flexed their offensive muscle again with a 19-6 victory against Penn Charter. Kegel torched Penn Charter for nine goals, followed by Melanson with eight, five assists and 10 steals. Donnelly added two goals and Trunzo collected nine saves in net.
On Saturday, the Lady Tigers began the morning with a 13-8 triumph over Wissahickon. Kegel paced the offense with five goals and Melanson finished with a hat trick. Both Kegel and Melanson notched a team-high three steals. Other goal scorers included Natalie Marquiss and Palone with two goals each, and Tieppo chipped in with a goal. Trunzo made nine saves to preserve the victory.
In the tournament finale, North Allegheny fell to Cumberland Valley, 16-12. The Tigers only two losses on the season have both come to the Eagles, but Saturday's contest was much closer as Cumberland Valley used a strong third quarter to prevail. Melanson led the NA charge with six goals, followed by Kegel with four goals and one each from Donnelly and Tieppo. Trunzo made eight stops in net.
For the campaign, the NA Boys improve to 11-2 overall and the Lady Tigers jump to 12-2 on the season. The water polo team will host McDowell on Tuesday night at 6:00 p.m. Both games will be broadcast live by the North Allegheny Sports Network.