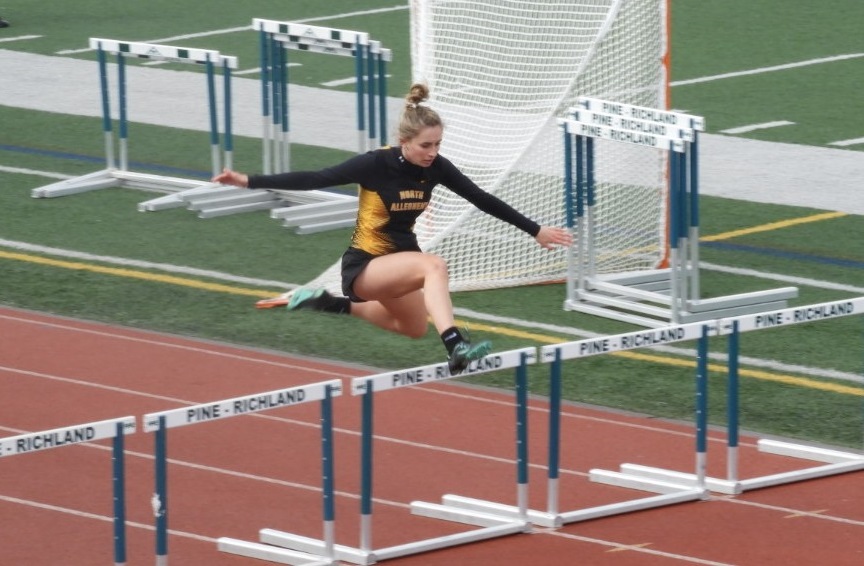 Tigers Impress At Butler Invitational
Most of the varsity athletes for NATF started their Spring Break by competing in the 55th annual Butler Invitational on Thursday. With 70 teams competing, this invitational is one of western Pennsylvania's biggest track meets of the season. Several NATF athletes, mostly distance runners, had podium finishes.
Finishing eighth place overall, senior Ally Christy ran a personal-best performance in the 3200m and was all smiles standing on the awards podium. Teammate Hannah Lindgren stood on the same podium as she was able to finish third in the same race. Lindgren also raced in the 1600m Run and captured a fourth-place medal for her efforts. Keeley Misutka was runner-up in the 1600m Run.
Isaac Burt's performance at Butler was good enough to earn a seventh-place finish in the High Jump. Joey Porter Jr. and Donovan Rice were the only sprinters able to earn podium finishes at the meet. Porter finished fifth place in the 200m Dash while Rice finished fourth in the High Hurdle completion and sixth place overall in the 300m Hurdles. Senior Zach Kinne had a dominating performance in the 3200m Run. Other than his teammate Dan McGoey, who finished second in the same race with less than four seconds behind him, Kinne was able to finish by almost 20 seconds faster than the best competitors in that event.
The Tigers travel to Shaler to take on the Titans and the Foxes of Fox Chapel on Tuesday, which will be the final sectional showdown for the season.