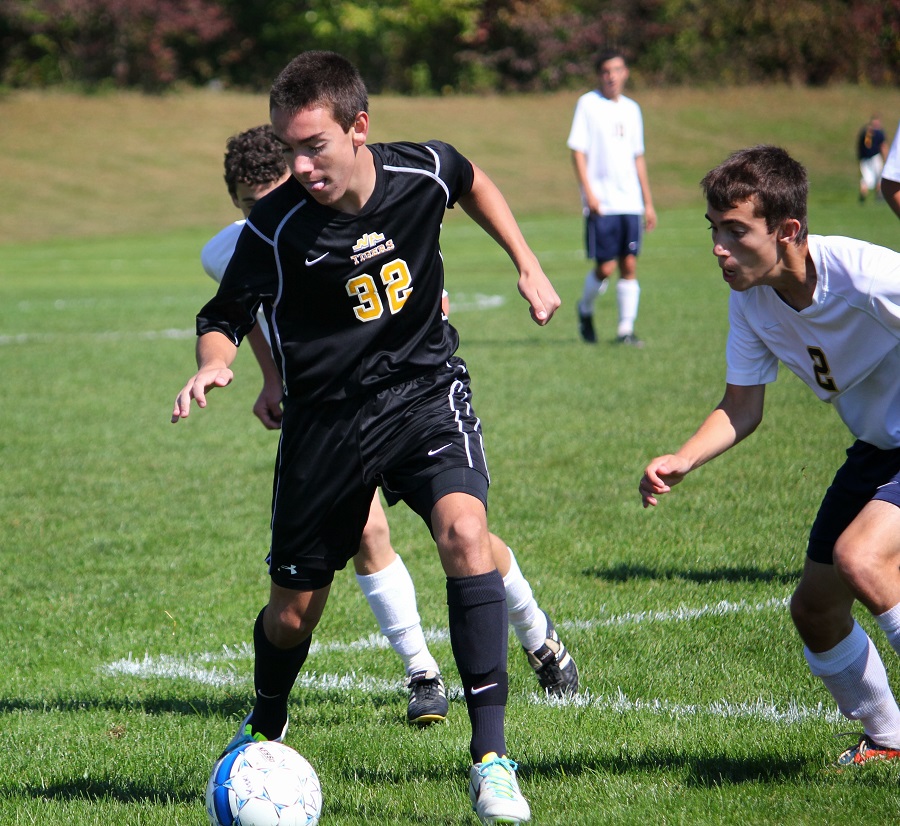 TIGERS KEEP SECTION PACE WITH 4-1 TRIUMPH OVER TALBOTS
By Boys' Soccer Contributor
Coming off of an emotional victory over Seneca Valley the #7 MSA ranked Tigers travelled to Hampton and needed a win to keep pace in the section. North Allegheny had two quick corners to start the match, but yielded no goals. Midway through the first half Hampton was awarded three straight corners in just over a minute. The Talbots managed a quality shot on goal during that span but NA goalie Luke Nolan made a great save. That seemed to wake up the Tiger offense that quickly transitioned. Dillon Thoma headed a pass to Nate Hall who delivered a thru ball to freshman forward Josh Luchini who finished past the Talbot goalie to give the Tigers a 1-0 lead.
Just under four minutes later Michael Correa made a nifty pass over the Hampton defense to an open Jason Earle who beat the goalie on a tough angle shot to make it 2-0 NA. Hampton wouldn't go away as the next 10 minutes they produced 3 shots on the Tiger net along with a corner, but couldn't get it in the net. With 5:41 to go in the first half Michael Peters found Luchini who took it towards the goal on a 2 on 1 break. Luchini dished it to Bobby Upton who buried it from 10 yards out to make it 3-0. Hampton crept back in the contest two minutes later on a usual play where the Tigers had a free kick that went wrong that led to a Talbot breakaway. Luc Kaiser snuck it in the net for a 3-1 halftime deficit.
North Allegheny came out strong in the second half passing the ball up to the corners and working the middle of the field getting quality shots from Upton, Luchini, Correa and Steve Binnig. With 26:09 to go in the game Upton passed over the Hampton defense to Luchini who took a shot from 15 yards out that was saved by the Talbot goalie. Upton was following the play and cleaned up the leftovers as he found the back of the net from 8 yards out for his second goal of the game and fourth in two games, giving the Tigers a 4-1 lead. The defense and mid-field play for the Tigers were solid all night. They limited the opposition to 5 shots and were supported by some quality minutes in the second half from Sebastian Vasquez, Ben Cinker, Yosef Ulomi and Alex Israel.
The Tigers with the win improve to 6-1-1 and in second place in the section and 7-3-1 overall. North Allegheny travels to Butler this coming Saturday September 27th for a 1:30pm afternoon section contest against the Tornado. The boys welcome all fans that can attend the game and show support.