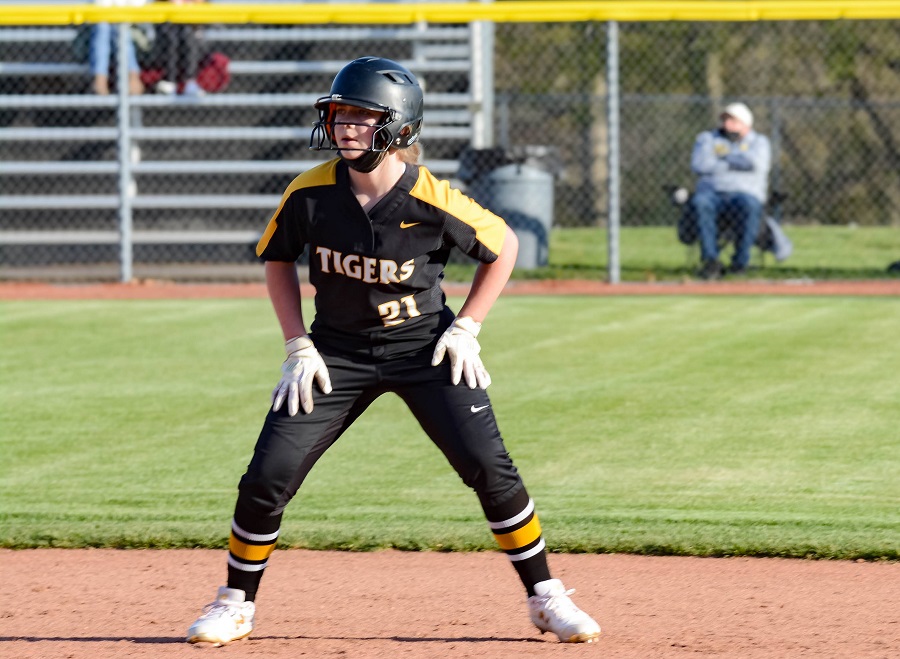 Tigers Lose Close One at Home against Seneca Valley, 3-1
by Bob Orkwis
The Seneca Valley Raiders traveled to Wexford for a must win game as far as their playoff hopes were concerned and to avenge an earlier 6-2 loss to North Allegheny and they were able to accomplish both with a 3-1 win over the Tigers.
All the scoring in the game took place in the 4th inning, but both teams had earlier chances. Seneca Valley starter and winning pitcher led of the 2nd with a single, the first of het two hits. But Annalyn Isaacs made a nice play on a hard-hit ball for a force out and shortstop Alaina Whipkey snagged a hard-hit line drive and turned it into an inning ending double play.
Whipkey started the bottom of the inning with a single and stole second. Carlyn Vaupel and Ali Domachowski drew walks, but Gross added a pair of strikeouts and the game remained scoreless.
Seneca Valley started the 4th inning with four straight singles, with Gross driving home Mackenzie Baker with the games first run. A pair of sacrifice flies upped the Raiders lead to 3-0. But Whipkey hit an opposite field solo homerun, her 7th of the season, to bring the Tigers within two. Caitlin Logan added a two-out single but was stranded.
Tigers starter Lauren Haywood kept the score at 3-1 and gave North Allegheny a chance entering the bottom of the seventh and the Tigers nearly took advantage.
Logan, and pinch hitter Sydni Junker singled to put two runners on with nobody out. The game changed on the next play, a pinch-hit single by Megan Manesiotis. The freshman lined a ball into left field and Logan was sent home. The throw to the plate from Izzy Roule was there in plenty of time and catcher Jocelyn McNany applied the tag. When Junker rounded second too far, McNany fired to Baker who tagged out the Tigers junior and just like that, a base hit turned into an unconventional double play. Gross got the games final out and Seneca Valley had a much-needed section win to improve to (7-2. 2-4). The senior Haywood, who pitched very well for the Tigers, took the complete game loss allowing 6 hits and no walks while striking out two
The Tigers, who had won four of their last five games, fell to (6-7, 3-3) on the season.
With her two hits, including the homerun, a stolen base and team leading 16th RBI, Alaina Whipkey earned the Wright Automotive Player of the Game honor.
North Allegheny travels to Norwin on Wednesday before returning home to host the Hempfield Spartans on Friday Night.
Box Score - Softball vs. Seneca Valley - 04/26/2021
| Score by Innings | 1 | 2 | 3 | 4 | 5 | 6 | 7 | R | H | E |
| --- | --- | --- | --- | --- | --- | --- | --- | --- | --- | --- |
| Seneca Valley | 0 | 0 | 3 | 0 | 0 | 0 | 0 | 3 | 6 | 1 |
| North Allegheny | 0 | 0 | 0 | 1 | 0 | 0 | 0 | 1 | 6 | 0 |
WP - Maddie Gross LP - Lauren Haywood (1-2)