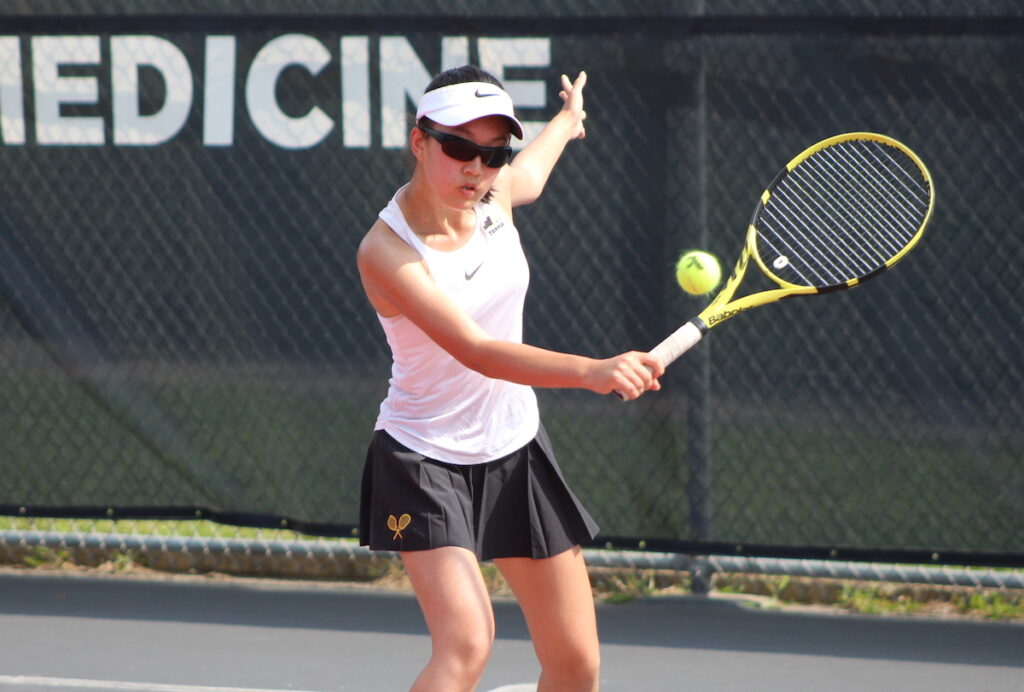 Tigers Make It 11 Straight Wins With Sweep At Butler
The North Allegheny girls' tennis team continued its winning ways on Monday afternoon with a 5-0 sweep at Butler. The victory improves the Tigers' record to 11-0 overall and 6-0 in section play.
Fresh off a silver medal performance at the Section 2-AAA Singles Tournament, senior Laeticia Wessell defeated Allison Smith by a 6-1, 6-0, decision at No. 1 singles. Freshman Peyton Mauser delivered a 6-2, 6-1, victory at No. 2 singles over Laini Spohn. At No. 3 singles, sophomore Audrey Zheng topped Amy Waggoner, 6-1, 6-0.
The success continued in doubles play as Tia Soussou and Siya Jain cruised to a 6-0, 6-1, triumph against Emily Hinch and Olivia Porneluzi at No. 1 doubles. The No. 2 doubles tandem of Rebecca Murphy and Kaitlyn Zeman captured a 6-1, 6-1, win over Maggie Bodamer and Sophia Kingsley.
Up next for North Allegheny is a non-section visit to Peters Township on Tuesday.
Girls Tennis Summary vs. Butler, 9-18-23
Match Summary

NORTH ALLEGHENY - 5
BUTLER - 0
SINGLES
#1
Laeticia Wessel (NA) def. Alison Smith (B)
6-1, 6-0
#2
Peyton Mauser (NA) def. Laini Spohn (B)
6-2, 6-1
#3
Audrey Zheng (NA) def. Amy Waggoner (B)
6-1, 6-0
DOUBLES
#1
Tia Soussou/Siya Jain (NA) def. Emily Hinch/Olivia Porneluzi (B)
6-0, 6-1
#2
Rebecca Murphy/Kailyn Zeman (NA) def. Maggie Bodamer/Sophia Kinglsey (B)
6-1, 6-1