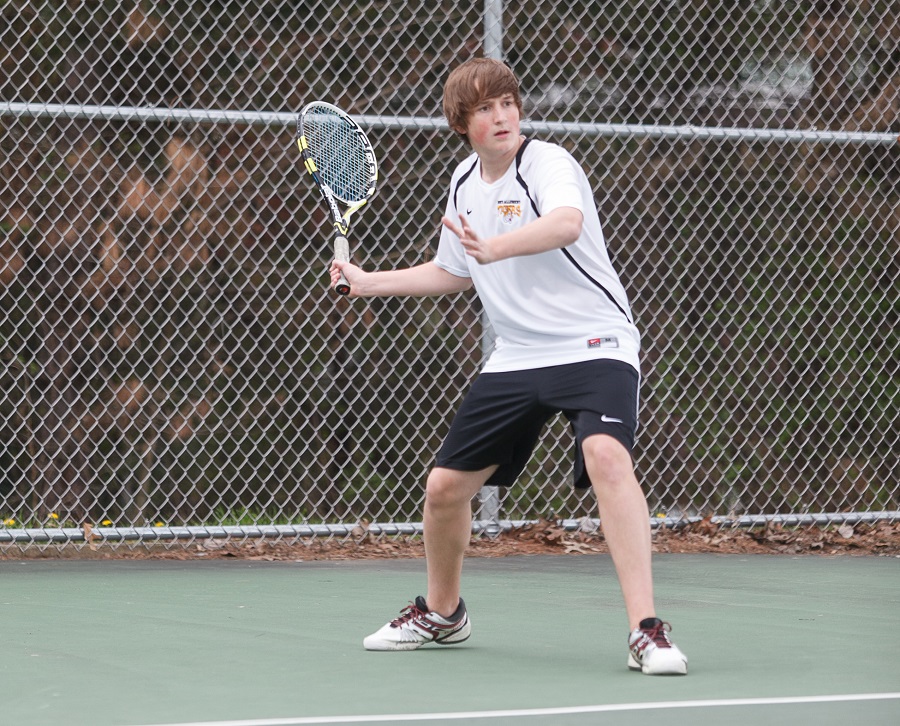 Tigers Open Section Play With Win Over North Hills
On a rare warm and sunny day, the Tigers traveled down Route 19 to North Hills to begin section play Monday afternoon and recorded a 5-0 sweep of the Indians.
The Indians, led by Coach Matt Woffington, were playing without several starters due to illness and injury but put forth a very game effort.  Leading the charge for the Tigers at number two doubles was the team of sophomore Ryan Marczak and freshman Andrew Chuirazzi, making his varsity debut.   This combo recorded the first point of the match, to be followed closely by junior Apoorv Anand and senior Rohan Yadav at number one doubles.
The third and clinching point of the match came courtesy of a varsity veteran, junior Andrew Xu, at the number three singles slot.  Not to be outdone, freshman Ivan Voinov  recorded a big win at number one singles while senior Michael Helkowski battled through illness and injury to take his number two singles match.
Moving to 2-0 on the young season with a 1-0 section mark, the Tigers look to improve on that record Wednesday afternoon versus Seneca Valley.  The starting time for this home match on the NASH courts against the Raiders is scheduled for 3:30 PM.
Match Summary (3/16/15)
NORTH ALLEGHENY—5  North Hills–0
Singles #1  Ivan Voinov (NA) def. Ryan Balog (NH) 6-0, 6-0
#2  Michael Helkowski(NA) def. Kris McEwen (NH) 6-2, 7-6 (7-3)
#3  Andrew Xu  (NA) def. Craig Deng (NH) 6-0, 6-0
Doubles
#1 Apoorv Anand/Rohan Yadav (NA) def. Robbie Colville/Steven Liao (NH) 6-0, 6-1
#2 Ryan Marczak/Andrew Chuirazzi (NA) def. Kyle Swartzbaugh/Hunter Ruck (NH) 6-0, 6-0