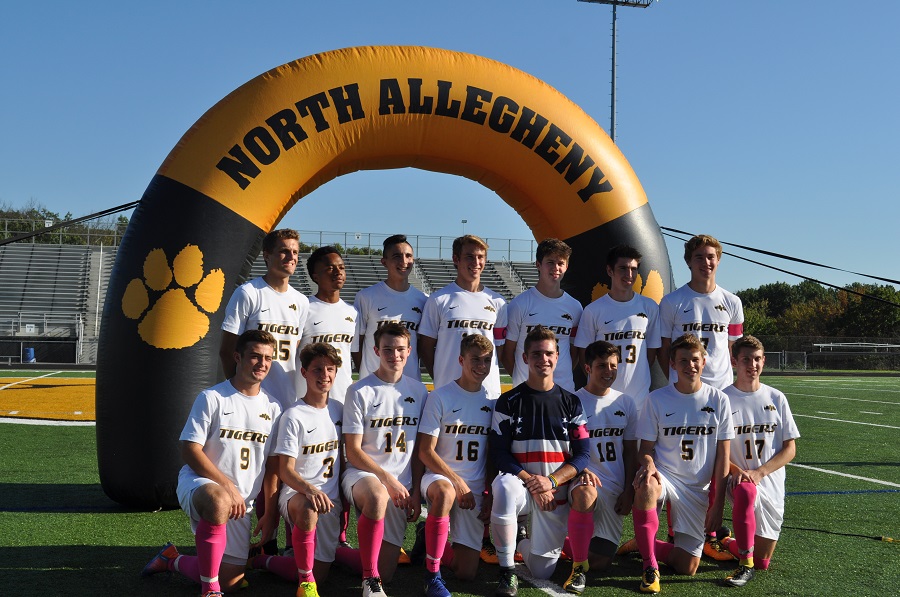 Tigers Overwhelm Thomas Jefferson On Senior Day, 10-0
The NA Tigers celebrated Senior Recognition Day at Newman Stadium Saturday afternoon with a dominating offensive and defensive performance, defeating the Thomas Jefferson Jaguars 10-0.
The NA seniors Ethan Schenk, Josh Rouser, Stanley Owens, Sam Buirge, Luke Stephen, Ryan Earle, Grant Glorioso, Sam Neal, Sean Atwater, Christian Giannetti, Josh Luchini, Cam Yurick, Zac Marzula, Nick Williams, Isaac Ciocca and Ian Wilson were honored in a pre-game ceremony thanking them and their parents for their dedication and hard-work throughout their soccer careers at North Allegheny.
The Tigers opened the scoring at 33:17 when Williams scored off a corner-kick by Atwater, and it was just the beginning.  After two near misses by Luchini, Yurick made it 2-0 at 23:51 off an assist by Luchini.  Soon after that Atwater scored from 15-yards at 17:34 to add to the Tigers' lead.  The Tigers had a few more chances in the first half, including a nice save by the Jaguar's keeper on rocket-shot by Atwater from 20 yards out, and Ciocca just missing from in close at the 8:40 mark.  The Tigers ended-up out-shooting the Jaguars 10-1 in the first half and came away with a 3-0 lead.
The second-half was an impressive show of force as the Tigers scored seven goals.  It started at 32:58 with Yurick's second goal of the game off an assist by Rouser.  Luchini then showed why he was recently selected as a high-school All-American by scoring two goals nine seconds apart: at 31:32 and again at 31:23 from 25 yards out.  Not to be outdone Yurick completed a hat trick at 27:05 off a nice assist from Marzula, making it 7-0.
Soon after that Coach Bobby Vosmaer subbed out the entire 11 senior players on the field who left to a standing ovation from the fans at Newman Stadium.  The new players showed that the future of NA soccer is bright as they proceeded to score 3 more goals: Jonny Ross at 15:33 off an assist from Nico Ramirez, Kyle Kaczmarek at 11:37 from a pass in front from Nikolaj Hindsbo, and Ross again at 8:00 off another assist from Ramirez, making the final score 10-0.
With the win the Tigers' record improves to 14-2-1 and they have one regular-season game remaining on Monday vs. the Hampton Talbots at Newman Stadium at 7:30pm, with the WPIAL Playoffs to follow.
Thank you to all the fans, the NA Administration, and the many volunteers who made the NA Boys Soccer 2017 Senior Recognition Day a day to remember.