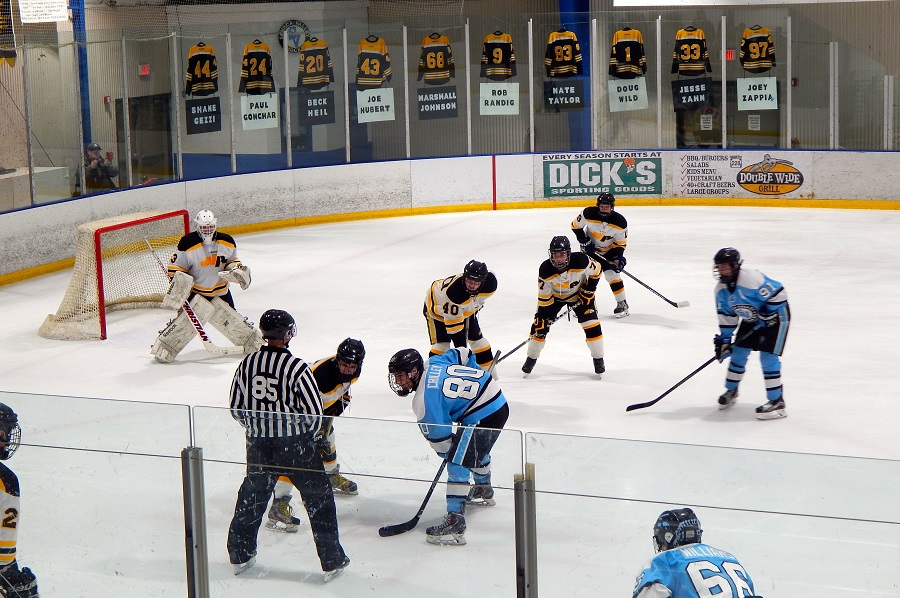 Tigers Prevail In Overtime On Senior Night, Take Over First Place
On senior night, it was fittingly NA senior forward Joe Zappia who produced a wrap-around goal in overtime to lift the Tigers to a thrilling 4-3 victory over the Seneca Valley Raiders at the Baierl Ice Complex on Thursday night. The win, North Allegheny's eighth in a row, also vaults the Tigers into first place in the Class AAA standings, one point ahead of Peters Township.
Seneca Valley, who had won four of its last five games entering the contest, used its speed and agility to take the game's first lead 2:55 into the contest. The lightning quick duo of Alex Crilley and Connor Williams created the goal as Crilley fed a pass to Williams for a goal and a 1-0 Raiders lead. Despite the Williams goal, it was North Allegheny who dominated time of possession in the first period and that advantage eventually led to a goal by William Carr with 5:03 remaining in the opening stanza that tied the game at 1-1. The Carr goal was set up on a terrific pass from Tyler Duderstadt.  With 2:31 remaining senior Dawson Richard scored his 12th goal of the season on an outstanding wrist shot that split two Seneca Valley defenders and beat goalie Dylan Sloat for a 2-1 Tigers lead.
In the second period, it was Seneca Valley who controlled the puck but yielded few results against starting goalie Joe Hubert and fellow senior net minder Doug Wild who checked into the game for the Tigers midway through the period.  Hubert and Wild combined for 23 saves, while SV's Sloat blocked 30 of 34 shots on net.
The Tigers expanded the lead with 6:36 to go in the period when Jesse Zahn scored on his own rebound to bring the score to 3-1, NA. However, Seneca Valley crept back into the game on a power play slap shot from just inside the blue line by Luke Vilella to cut the Tigers lead to 3-2 with 4:10 remaining in the second period. SV's Chris Lipnicky tied the game at 3-3 with 9:48 to play in the third period to force overtime. The extra session didn't last long as Zappia score the game winner 49 seconds into overtime to give North Allegheny an exciting 4-3 triumph.
The win improves North Allegheny to 12-4-1 overall, while Seneca Valley slips to 10-8. The Tigers visit Bethel Park on Thursday at 7:00 pm.
Ice Hockey Summary vs. Seneca Valley, 2-4-16
| GAME SUMMARY | | | | | |
| --- | --- | --- | --- | --- | --- |
| SCORE BY HALVES | 1 | 2 | 3 | OT | FINAL |
| Seneca Valley | 1 | 1 | 1 | 0 | 3 |
| North Allegheny | 2 | 1 | 0 | 1 | 4 |
Ice Hockey Individual Scoring vs. Seneca Valley
| INDIVIDUAL STATS | | |
| --- | --- | --- |
| FIRST PERIOD | | |
| Seneca Valley | Connor Williams (Alex Crilley) | 2:55 |
| North Allegheny | William Carr (Tyler Duderstadt, Cameron Zahn) | 11:57 |
| North Allegheny | Dawson Richard (Erik Chidester) | 14:29 |
| SECOND PERIOD | | |
| North Allegheny | Jesse Zahn | 10:24 |
| Seneca Valley | Luke Vilella - PP | 12:50 |
| THIRD PERIOD | | |
| Seneca Valley | Chris Lipnicky (Crilley, Shane Galis) | 7:12 |
| OVERTIME | | |
| North Allegheny | Joe Zappia (Chidester) | 4:11 |